By Lauren Spencer
Cheers and applause echoed through Suffolk University's Regan Gymnasium Thursday evening as Luke Giuffrida picked up his black-ink pen. This wasn't NBA Draft Day but the 7-year-old's excitement could have rivaled it.
Giuffrida spent much of the day undergoing treatments and visiting with doctors at Boston Children's Hospital. He has Cystic Fibrosis, a genetic disorder affecting the lungs and digestive system, but Thursday it wasn't the respiratory manifestations or the countless medications that held Guiffrida's focus.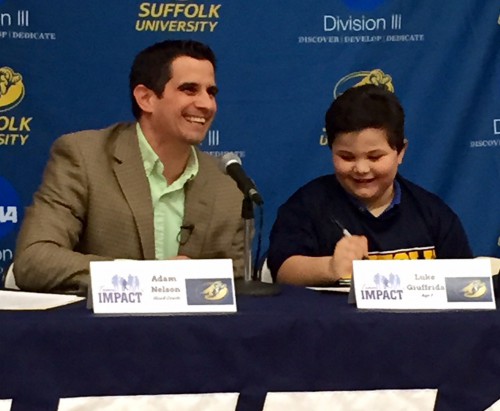 "It was a draining day," said Luke's mother, Sherry Giuffrida. "But you know what he kept saying … "Is it 5 o'clock yet? My team's waiting for me at 5 o'clock."
Giuffrida became an official member of the men's basketball team last week when he signed a letter of intent alongside Coach Adam Nelson, Rams players, and surrounded by members of the athletic department.
"He is as excited as a kid can get," Sherry Giuffrida said. "He's been looking forward to it all week long."
The signing was orchestrated by the athletic department in partnership with Team IMPACT, an organization that matches children facing chronic illnesses with sports teams who serve as mentors to enhance their life experiences.
Suffolk athletics graduate fellow and assistant softball coach Lauren McCart said she wanted to get the department involved in a program that would allow the athletes to really make a difference in the community.
"I worked with Team IMPACT as an undergrad at Bryant University when I was president of [our Student Athletic Advisory Committee]," said McCart. "I loved doing it at Bryant so when I got [to Suffolk], I reached out to my contacts at Team IMPACT and started to sign our teams up."
"Serendipity, call it whatever you want," Team IMPACT leader Mary Welker said. "We happened to get someone in this area who was looking for a team at that time, a basketball fan, and it worked. It's perfect for both [Luke and the team]. Luke was really looking for that big brother camaraderie. People think that Team IMPACT is about sports but it's not really, it's about the team, it's about that camaraderie."
Luke's mother noted the program has served as the perfect escape for her son, who joined the team more than a month ago, but did not officially sign until last week.
"It really gives that sort of positive, exciting, happy thing to look forward to when you're dragging your butt through children's hospital, or through another episode of lung therapy, or the tons of medications that he's on. This really just gives that positive reinforcement that, if you can get through everything you have to do, you get to have a lot of fun over here with this team."
Not only has the partnership been beneficial for Giuffrida, but Nelson said the youngster's presence and lively spirit has been tremendously uplifting for both him and the team.
"It's been awesome, it really has," the coach said. "It's good for Luke but I know it's been really good for our guys. We lost a game at the buzzer here [on Feb. 14] and our guys were so down but they get in the locker room and Luke's giving us Valentines and they just finally get it. Myself included, I was completely down after that game but I went back up to my office, I opened his Valentine, he had cookies in there, I ate the cookies, put my feet up and I felt better about it. It kind of puts things into perspective."
Welker, who manages the Massachusetts region of Team IMPACT, noticed the same inspiration Giuffrida has provided to the Rams.
"One of my favorite things, besides the kids and them having a great time and this being meaningful for them, is to watch the student athletes grow and watch how their perspective changes," Welker said. "Maybe the worst thing in the world isn't that you sprained your ankle and missed three games. It gives you a different perspective and I think makes you appreciate anyone who's fortunate enough to have a body physically able to compete in intercollegiate athletics. I think it's great to appreciate that there are people who don't have that."
A second roaring wave of celebratory cheers came after the signing, when the Suffolk players put their new teammate's skills to the test. Luke sunk a basket from steps inside the foul line, and the Rams went wild.
"To see these 20-something year-old guys putting themselves out there, being involved in a really positive way, being really positive role models to a younger kid, that's what it's all about," Sherry Giuffrida said. "I'm really glad that Team IMPACT could provide this."