Lydia Martin, a professor at the New England School of Art and Design, has received honorable mention for her submission of, "Majeska," a vibrant oil painting in the online art gallery Colors of Humanity.
The show, entitled, "Red," was launched on the Colors of Humanity website on Feb. 1. Of the 117 works that were accepted into the show, four were painted by Martin. The gallery accepted submissions from 26 states and eight additional countries.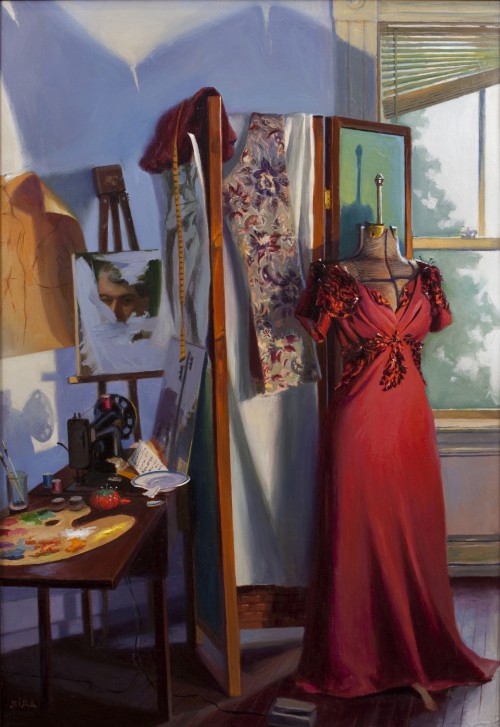 In addition to accepting submissions from artists across the globe, Colors of Humanity also seeks to give back by donating 10 percent of all entry fees to charitable organizations around the world.
"Its such a cool website because it's helping people," said Martin. "I've often wanted to create art to assist others."
The theme of this months' gallery is embodied in its title, "Red," and will be donating 10 percent of this month's entry fees to the International Federation of Red Cross and Red Crescent Societies.
"Although not all shows have a direct link between the theme and the charity, we like to give to charities that use the money directly for the cause and not overhead or administrative fees," said Colors of Humanity Founder Janelle Cogan. "Because our shows are international, we also like to use charities that are worldwide and have a website so others can learn more about their cause and donate if they chose."
Martin said she felt not only honored to have been awarded an Honorable Mention in the contest, but also to have had all four of her submissions accepted. This was the first time that all of Martin's submissions had been accepted by a gallery.
Depicted in Martin's noteworthy painting, "Majeska," is a dress stand draped with a scarlet gown, an old Singer sewing machine, and a pallet full of fresh paint. The painting was inspired by a dress stand given to Martin by her sister-in-law that stands in her home, showcasing a scarlet dress that Martin made herself.
In addition to the "Majeska," Martin's additional three works accepted into the "Red" gallery also use brandish, vibrant red hues.
In her work, "Bunched Beets," painted specifically for the show, Martin showcases the hearty vegetable in a bold red, contrasted by a white tea towel and a cluster of green leaves gathered delicately at the top.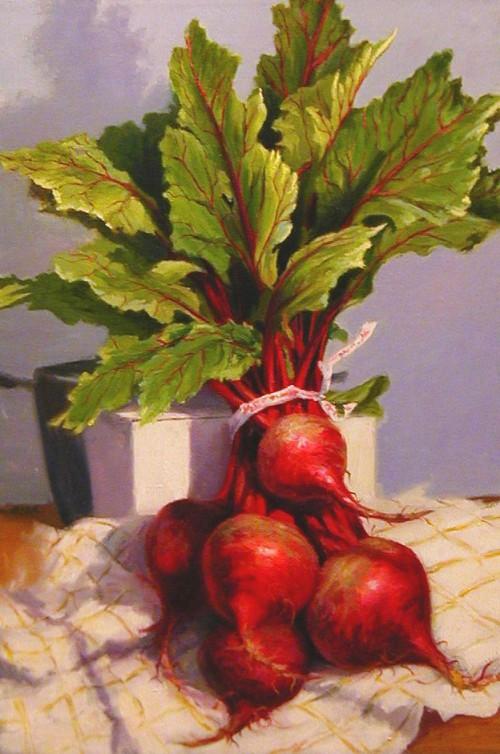 Contrasting this very realistic portrayal of an everyday object is "Scarlet and Stainless Steel." Although the piece is created in the same medium, the subject matter differs in the fact that it appears to be more whimsical. A crimson masquerade mask dangles in the corner of a shadow box that is cramped with everyday objects such as a soup ladle and a juicy, ripe apple.
Finally, "El Diablito" also encompasses a wonderful collection of everyday yet curious objects, such as a bright yellow teapot, a pair of ruby-red kitten heels, and a playing card depicting a fiery red devil and his pitchfork.
Each of these paintings fits wonderfully with the theme of the "Red" show, representing the many different hues of the color in a realistic and everyday way.
Although she occasionally uses pictures in order to grasp the shape of certain objects, Martin said she receives the most joy and inspiration by painting the concrete world around her.
"I primarily work from life. That's probably my favorite thing of all," said Martin.
Martin, who is currently on sabbatical, is preparing several pieces that will be exhibited in the contemporary gallery at the Whistler House Museum in Lowell.
"It's an absolute honor that they asked to exhibit me," said Martin, regarding her preparations for the upcoming show.
As for Colors of Humanity, the online gallery was founded by Cogan in September 2014 and seeks to not only provide a space for artists to showcase their work, but also to benefit international charity organizations along the way.
Since its beginning, Colors of Humanity has hosted six shows and has donated profits to several different charities such as Habitat for Humanity and the Humane Society. Their next show, "Skies," will begin in March and is currently accepting entries.
"We are still a new gallery and have lots of new ideas for expansion and growth," said Cogan.
To view Martin's work and the other entries in the February "Red" gallery, visit http://www.colorsofhumanityartgallery.com.