Hate speech, political correctness, and violence against women were featured prominently at recent Ford Hall Forum.
Jeremy Waldron, a law and philosophy professor at New York University, and Azhar Majeed, an author and program director at Foundation for Individual Rights in Education, debated what constitutes hate speech during the aptly titled 'Free to Hate' at Suffolk's C. Walsh theater on Thursday.
"Hate speech … can be a poison in communities," said Waldron. He argued that hate speech can be regulated to protect certain groups in society.
Majeed, whose organization, among other issues, fights suppression of free speech on college campuses, saw the problem differently.
"In this country, there's no constitutional right to not be offended," said Majeed. Suppressing free speech "not only drives bigots underground it hardens their resolve," by limiting their interactions to people with similar views, he added.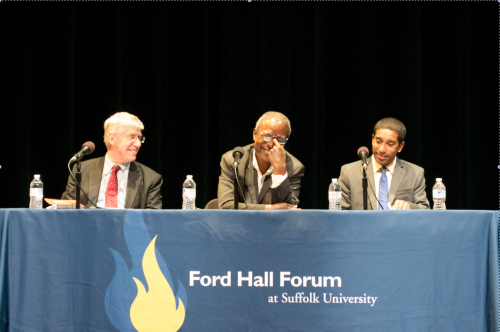 A better approach is to engage people who use hate speech with counter-speech, which allows the offended party to vocalize his or her beliefs and explain why the hate speech is hurtful, instead of relying on the government to punish hate speech, according to Majeed.
"Without open discourse and dialogue, the U.S. may not have progressed [as far as it has] to now from the civil rights era," Majeed said to a crowd of more than 40 people.
Still, a degree of hate speech regulation can protect certain groups of people, Waldron argued. He said Britain added rules regarding religious hate speech after the July 2005 bombings, when four Islamist men detonated bombs on public transport in London. He said that hate speech attempts to expose a particular group of society to discomfort.
"Free to Hate" was co-presented by the Suffolk University forensics team, and unlike most Ford Hall Forums, the panelists engaged in a more friendly debate rather than the usual tense discussions.
In a forum on Nov. 3, a lively crowd packed the same theater to hear playwright and activist Eve Ensler discuss her career and her latest play, "O.P.C. [Obsessive Political Correctness]."
Joyce Kulhawik, a former arts and entertainment anchor for WBZ-TV in Boston, moderated the discussion. Kulhawik serves on Ford Hall Forum's Board of Directors.
Though the event was titled after Ensler's upcoming play, the discussion quickly shifted to her work to prevent violence against women around the world.
"What motivates me is power and the motivation of women turning pain into power," Ensler said.
"Just saying 'vagina' on air can be incredibly empowering," said Kulhawik.
Ensler said that when CNN ran a piece on "The Vagina Monologues" around the time of the play's release in 1996, the network's 10-minute piece did not use the word 'vagina' once.
"I would call you an 'art-ivist'" Kulhawik told Ensler, whose activism has taken her around the world to support women who have faced violence.
Ensler said she survived rape and violence by her father as a young girl.
Kulhawik suggested that when Ensler was diagnosed with uterine cancer, it was almost like she had been violated again. Ensler agreed, but after the surgery to remove the cancer, she felt some relief.
"The first time I was present in my own body was post-surgery," Ensler said. "Every day I had chemo, I imagined it burning the evils away," she said.
Ensler talked about aiding violence victims around the world, and her friend Dr. Denis Mukwege, a Congolese gynecologist who treats women who have suffered extremely violent rapes.
During the question and answer period, several audience members said they were angry about the violence that happens against women, but were unsure of how to direct their anger into action.
Ensler said that feminists have traditionally been at the forefront of fighting for women's rights, but the term has lost some appeal among younger generations.
"Maybe we need to find a new language … a new word other than feminism," she said.
Ensler also praised Emma Watson's recent U.N. speech as an example of engaging people to fight for women's equality.
Watson's speech garnered mixed opinions in the media. To that, Ensler said, "anyone trying to end violence against women is a good thing … [Watson was] just having opinion."
More importantly, Ensler is interested in learning how to shift away from dominant patriarchal systems.  "Men have to say 'this is our issue too,'" she said.
Ford Hall Forum's next event will be 'The Birth of a Nation" on Nov. 20. Their final event this semester will be Warrior Princess, on Thursday, Dec. 4.