Weekend food truck festival draws night owls and foodies
By Aiyana Edmund
Despite the drizzle of rain, riders and diners of the MBTA united and mingled at the Late Night Arts and Eats festival on Saturday night, a midnight food truck festival hosted in Dewey Square.
After a long night of stampeding the city in heels and collared button downs, or heading home after a long shift at work, what better time to grab a quick snack from your favorite food truck?
Dip a handful of Roxy's Grilled Cheese rosemary and truffle oil fries into a heaping, melting mound of vanilla ice cream, snug between two salted caramel cookies from the Cookie Monstah, and you're bound to catch a second wind. Or, with mouths a little spicy from the works of the Chicken and Rice Guys, sip on rosemary lemonade from The Dining Car and you'll be headed back for zesty, spicy seconds (or thirds).
"I think this is great," said 20-year-old Somerville resident, Meghan Breach. "I'm a huge advocate for thinking the trains need to run later, and now that they are, plus these food trucks posting up here this late, I don't know why anyone hasn't thought of this sooner," said Breach.
Food wasn't the only thing beating the rain at Dewey Square on Saturday. The chic women's mobile boutique, The Fashion Truck, opened its back doors to the riders and diners, selling cowl neck sweaters, paisley scarves and jewelry.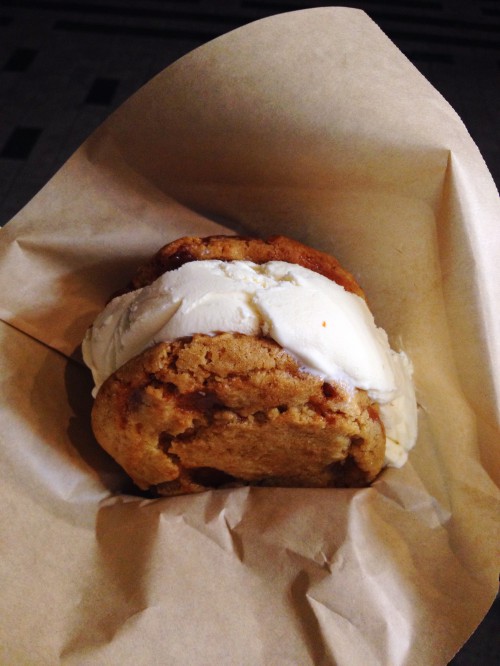 On March 28, 2014, the MBTA launched extended late night hours of train service to the city. The last red, orange, green, and blue line trains depart downtown stations at 1 a.m. on Sunday through Thursday nights, and 2:30 a.m. on Friday and Saturday nights.
This benefits not only the night owls, but also patrons of restaurants, hospitality services and other late night business operations. Not to mention, the enticement of your favorite food trucks strategically waiting for you outside of South Station. 
Leave a Comment