Success continues for Suffolk Baseball against Johnson & Wales
The last time we took a look at the men's baseball team was in the midst of an impressive 10-game winning streak and held the top spot in the GNAC Conference.
Since then, not much has changed as the Rams have continued to impress on the diamond.
This past week the Rams went 3-2, ending their winning streak at 10. They suffered a loss to Endicott College but looked to pick things back up in a double-header against Norwich.
The Rams would split the two games with the Cadets as Suffolk took game one by a score of 12-4, and dropped game two 5-3.
In game one, the Rams scored five times in the third and six times in the sixth en route to a eight-run victory. JC Collette and Luke Ronchi provided the power, each hitting long balls for the Rams. Steve Chamberlain improved to 3-1 with six solid innings surrendering three runs.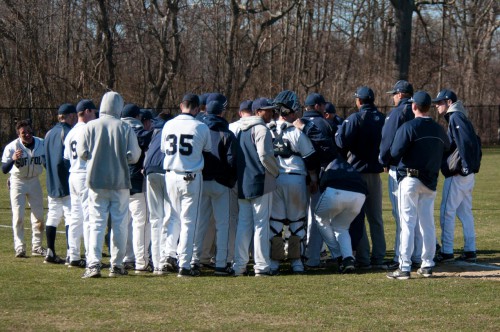 In game two, Norwich jumped out to a 4-0 lead in the first two innings on the Rams' starter Dan Shields. In the fifth the Rams tried to push back scoring two runs cutting the deficit to two, but the Cadets held on for the win in the end 5-3.
The following day saw another double-header, this time with the talented Johnson & Wales squad. The Wildcats proved no match for the Rams as they swept in the two games, outscoring their opponent 14-4.
The first game was a pitchers duel between Suffolk's Jonathan Richard and the Wildcat's Jake Marchesseault. Richard would prove to be the superior pitcher as he went the distance over seven innings, allowing two earned runs and striking out five.
The Rams were trailing by one run until they added one in the sixth to tie and walked off in the seventh on a balk by Marchesseault.
Game 2 would be yet another explosion of Rams' offense as they scored all it's 11 runs in the first three innings of the game, securing an 11-2 victory and a sweep of their conference rival Wildcats.
Rob Marks led the way with four RBIs and Jake Cintolo also contributed three of his own. On the mound, it was a group effort for the Rams as four pitchers took the rubber to complete a seven-inning, two-run, five-hit, and five-strikeout game.
The win improves the Rams to 16-9-1, and 11-1 in the conference. Coach McConnell's squad looks poised to make a deep postseason run as the playoffs approach with only 10 games remaining on the schedule.