Asher Roth shares live session with small crowd in anticipation of new album Retro Hash
Artist Asher Roth visited Allston's Brighton Music Hall Friday April 4 to deliver a special live session for his local fans in anticipation of his new album Retro Hash. Roth set out on a small tour playing only four shows located in his hometown of Philadelphia, Boston, and New York. A final show will be held in Los Angeles, the date of his album release April 22 for a set of extremely lucky fans as they witness the underrated rapper perform a few of his new tunes live.
As the venue begins to quickly fill following the opening act, fans of all variations buzz amongst themselves as they converse about their favorite Asher Roth features and verses. After a few minutes of chatter, the crowd cheers as Roth's friend and resident DJ Wreckineyez takes only a second or two to set up before he drops his first beat about 8:30 p.m. getting the party started officially as members of the crowd start to bop to Drakes "Started From the Bottom." DJ Wreckineyez continues to test Roth fans with their rap appreciation, dropping tunes from Jay-Z and Notorious B.I.G. as many audience members sing along, not skipping a note.
The opening Dj set spins to an end as the rest of Roth's band members emerge from backstage as 'This Is How We Do It' by Montell Jordan hits the venue speakers – at this point it is apparent the members of the show were in for a special treat. A keyboardist, drummer and bass player all begin to plug and tune in their instruments as an apparent anticipation in the builds in the air.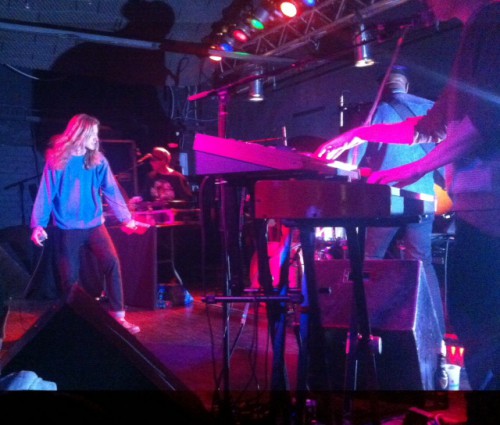 "Rufio on the drums!!" screams a member of the crowd just seconds before the crowd roars, welcoming Philadelphia native Asher Roth to the stage.
Roth jumps right into the first song of the set as the audience sways along to the rapper's every rhyme sharing the common interest of this MC gracing the stage. As most will think of Roth's chart topper "I Love College" – but unknown to many music lovers, Asher Roth is actually pretty phenomenal. Whether it be a YouTube snippet or a small groovy dance on a stage in Allston, it is clear that Roth has talent flowing through his veins as he shares his witty lyrics and bright vibe.
The evening continues to be fun-filled as you see a sea full of hands in the air bumping to the beat of Roth's ample fun energy. After performing only his third song "Common Knowledge," it was apparent that a majority of the members in attendance were long time fans as they sang along with Roth's every word.
Roth does not forget to mention that DJ Wreckineyez hails originally from Ludlow, Mass. as members of the audience cheer, showing their massive support to the local grown talent. He also shares his excitement for his album Retro Hash as he shares a tad of information about his new project and its release "finallyyyyy!"
"What's special about this, is we are all friends. We are all about the same stuff, good people and good music," says Roth to his fans as the instrumentals to his newest single "Fast Life" begin to play. "So it's only right that I play a new drop for you."
Only being released in late March, it was a pleasant surprise to find a majority of the listeners singing along to the chorus of the new drop – sharing a special moment being one of the first audiences to see the song performed live. As the liveliness of the song seems to hit a vital peak, the song naturally called for a solo from the bass, DJ and keyboard all so amazing you wish they were never ending. As the drummer Rufio tears an insane drum solo the "Fastline" melody sneaks back in.
"Thank you guys for sticking with me throughout. Now we are finally free," says Roth before beginning a rambunctious chant within the packed audience. "U.S.A., U.S.A., U.S.A.!"
Roth performs every song with pure fun and authenticity, clearly apparent to be excited to share his set with his fans. Seeing that this tour was only graced upon a small number of cities, it became obvious at various points of the show that the members in attendance were in for massive treat.
"Boston I love being around you so fun thanks for letting me play some new stuff for y'all," says Roth after playing a small snippet from Notorious B.I.G.'s "Big Poppa."
Finally as the show is coming to a close, Roth invites two female members of the audience to the stage for a friendly "Me vs. Them" dance off, having the girls stage dive as the most strategic form of stage exit. As Roth holds his lyrics to the next song, he lets his band play, saying "if you feel like dancin' then dance."
Continuing the fun into his next song, Roth splits the audience into two sections as the introduction to the second released song from Retro Hash "Tangerine Girl" begins to play. Also encouraged during the performance of this song was a memorable Soul Train set up by Roth himself in the middle of the crowd as fans groove to the heartfelt song. Roth then stage dives into the crowd himself briefly for a moment before returning to the stage for a rap version, adding a more rock-type feel to the second verse – adding to the immense perk of attending a live show.
As the show comes to an end, Roth's fans cheer his name hoping for an encore from their shaggy headed star. Asher Roth and band exit the stage briefly before returning to the small stage to perform his hit "I Love College" from his album Asleep in the Bread Aisle singing "I love Boston" instead of "I Love College" for the final cut of his memorable set.
Leave a Comment