Baseball faces tough stretch during Florida spring training
Disappointment was abound when the Suffolk University baseball team returned from its spring training trip in the sunshine state. After bringing home a winning record last year, the Rams fell short this season, leaving the Russ Matt Central Fla. Invitational in Auburdale with a 3-6 record.
"We started slow," said Assistant Coach Anthony Del Prete. "We lost the first five. It was kind of a rough week for us."
The team landed in Florida Wednesday, March 5, and were immediately thrown off when their Thursday practice was canceled due to rain.
Games began Friday when the Rams lost to Gwynedd Mercy. Four additional losses followed, then three victories, and one final loss to end the invitational.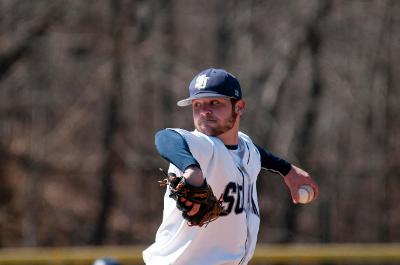 "We just weren't consistent all the way through," said Del Prete. Second baseman and senior Devan Jones echoed those thoughts.
"I think we're capable of playing better than we did," said Jones, who believes the team has time to improve before their big conference games later this season.
Inconsistency poked its head into just about every game in Florida, Del Prete and Jones said. Each time on the diamond the Rams had a poor inning where they gave up a number of runs to their opponents. In some match ups, their pitching was on point, where in others their strengths laid in batting or defense.
"It was a little disappointing," Jones said. "We're capable of what we did last year. We're just as good if not better."
He believes the team could have proved themselves more when at bat and pitching during the invitational.
"This year the schedule was tougher," said Del Prete. However, the team won't let their loses allow them to lose sight of their gains.
The first win in Florida was to Thomas More, the only team to defeat the Rams in last year's invitational. The Rams also had an impressive win against Husson, coming back in the seventh inning after blowing their lead earlier in the game, Del Prete said.
Another highlight of their stint in Florida was an excellent performance from the team's freshmen, Del Prete said.
Since the trip, the Rams have split a double-header with Rhode Island College and tied a game with Wheaton College.
Del Prete said the team's main goal going forward is to improve with scoring runs.
"The object of the game is to score more runs than the other team," he said frankly.