CJN needs web journalism courses now
Suffolk University's Communication and Journalism Department offers many courses from review writing to advanced reporting, but students cannot take any specifically dealing with the world of online journalism writing as of now.
The department needs to roll out not just one course but several, in order to create  web or multimedia journalism courses available to print and broadcast majors. The field students in these majors are trying to break into is constantly changing and they need to be educated about the differences between writing for a newspaper and writing for a website.
When I was applying to colleges, Emerson was my top choice while Suffolk was a somewhat distant second. A huge part of the reason for that was because I knew Emerson had a print and multimedia journalism major while Suffolk only offered print and broadcast. When seeing names for courses like "beat reporting in a new century" and "the digital journalist" it is hard not to get excited.
Sure, some of my Suffolk courses have discussed the differences between things like print and online article deadlines and such. Sadly, none have ever gotten knee deep in how to succeed in online journalism. Creating courses or a journalism minor that involves ones similar to those Emerson currently offers would better prepare Suffolk students for the new world of journalism.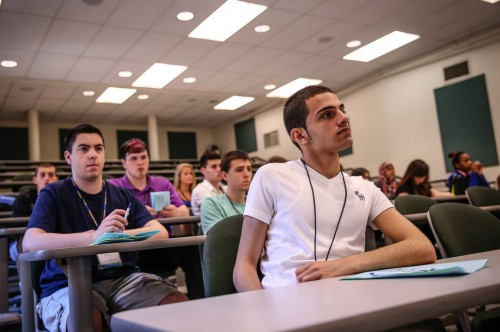 I would bet the minor would be well-received by students for that aforementioned reason as well as the fact that the courses would be interesting and entertaining. A generation of college journalism students who grew up with the internet would probably be excited to learn about how it has affected their chosen field.
Everything I have learned about the world of online journalism, I have had to pursue on my own. Things like making SEO (search engine optimization)-friendly headlines and creating compact paragraphs are skills I learned not from a journalism course, but from internships and co-ops.
Journalism students are always going to learn more in the field doing internships than they will in the classroom. Whether you are a student at Suffolk, Emerson, Northeastern or BU, the skills to become a successful journalist are learned best through hands-on experience, plain and simple. The problem that Suffolk journalism majors have right now is that they get no basic foundation of what is expected when writing an online story or creating an online video package that will likely be embedded in a story.
These skills are not only recommended, but necessary to get a job post-graduation with any media outlet. Broadcast networks like NESN, ESPN, CBS and others all have websites that mix in both online video and articles. The Boston Globe, Boston Herald and Boston Magazine all have online-exclusive content. Over the past few years, the Globe has been working to give Boston.com its own tone and feel that is different from that of the newspaper.
Being an online-savvy journalist is a must at this time in the field. Suffolk needs to prepare its current and future students for that world. Incorporating a minor full of interesting and informative courses about online journalism needs to happen as soon as physically possible.