James Vincent McMorrow releases Post Tropical
With a sound destined for rainy days, a sound that's imbued with melancholy and vocally heavy, its mood music for any mood that you are in.  Inspired by the music of the '70's singer/songwriter era, James Vincent McMorrow wears his influences on his sleeve.
From the slow beats on the opening track "Cavalier" that emulates James Blake, to his smooth vocals reminiscent of his early influences such as Sufjan Stevens and Band of Horses, to the atmospheric folk edge he leans heavily on.
His first album Early in the Morning  was an instant favorite in my eyes-combining vocal acrobatics, emotional lyrics and acoustic instrumental accompaniment that I so easily fall for.
Released in Ireland in March 2010 by Believe Recording, the album was met with a multitude of accolades.
To record his second album Post Tropical, he hunkered down to a small studio in Texas in 2013 and proceeded to take a nearly 180 from his previous album-infusing new aspects such as loaded synthetic instrumentals and horn charts.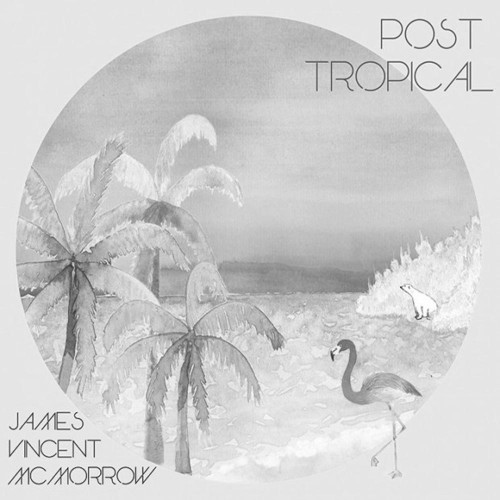 The result is some truly beautifully crafted songs-individually – but as a whole an album that feels disjointed – a lot of ideas without a lot of payoff.
Sometimes having such a strong, well-received first album can be detrimental to a musician when a listener, critic or what have you will undoubtedly compare all future efforts with the first output.
The strongest songs on the album are the ones that add some variety to the slower, instrumental reliant album. "Gold" is an upbeat, horn-heavy song that allows an instrumental interlude to build the musical momentum rather than slow everything down. "Look Out" is a lullaby, a haunting piano piece that allows for the vocals to sweep over, rather than overwhelm the natural appeal of the music. Post Tropical the title song of the album, is the one that is most reminiscent of the McMorrow's debut Early in the Morning combining his delicate vocals with the roughness of folk music, easily creating the strongest song on the album.  "Glacier" changes it up, including an upbeat tempo song to drag people out of the slow pacing of the album.
On his first album, McMorrow had songs ranging from the effortlessly moving and lyrically and musically intricate "We Don't Eat" to the mournful "Follow You Down to the Red Oak Tree" to "From the Woods!" which ends the album on an exuberant, lively note.
There was variety but all of the songs were uniformly linked to make a complete sounding album.
The misfire of his sophomore effort is the pacing. If there is no mixed tempo, the songs begin to blend together which can be in danger of becoming forgettable – which sadly this album seems to do.
By no means is it a bad album, there is some great musicality going on, but it is undoubtedly disappointing. With such a talent, such a vocalist behind the effort, there was hope that his sophomore effort would keep the spirit of his first album all the while injecting a new sense of life into it – instead it seems the album couldn't decide what direction it wanted to take.
Leave a Comment