Josh Groban swoons audience members at TD Garden
The TD Garden looked close to sold out on Monday, Oct. 28 for power vocalist Josh Groban and former background singer for Michael Jackson, Judith Hill. The concert started with Hill belting out emotionally charged power ballads. An audience compiled mostly of middle-aged Bostonians slowly filled into their seats and sat down to calmly enjoy her voice.
Among these audience members were over 200 survivors and first responders from the Boston Bombing attacks, personally invited by Josh Groban. He dedicated "You Raise Me Up," an audience favorite and arguably his most popular single to date, to them because of their strength. He also invited members of the HBO Masterclass he taught, and had them perform an original song.
Groban modestly entered the stage after giving his musicians, who were dispersed and subsequently spotlighted within the audience, a chance to show their talent. A violinist, bass player, electric guitarist and drummer for example, all shared the stage with Groban, and all members had a chance to shine.Throughout the concert, Groban moved about the stage excitedly, flawlessly hitting every note and incorrigibly giving everyone in the audience goosebumps. "February Love" and "The Moon is a Harsh Mistress" had audience members audibly crying. Groban sang with voracity, and had a strong phonetic grasp on both the Spanish and Italian language. Something else Josh Groban did: He played the drums and the piano throughout the concert.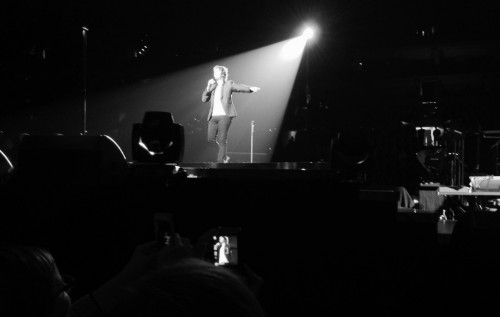 He thanked those in the audience he recognized, whom he called his "cult," for being with him since his debut album.
He tells the story of waiting in line for his own album on the Monday at midnight that it was released, and, employing a Stewie Griffin voice, he asked the CD store owner whether or not he even had his album. He said, "I knew I'd probably be the only person in line for my album." The album eventually went on to reach double-platinum status.
Judith Hill came on stage to join him for a couple of songs, including a song called "The Prayer" that he originally recorded with Celine Dion. She is also known for her performance on The Voice, and was equally awe-inspiring in person.
Throughout the concert, Groban also took audience questions.
An audience member asked him if he would let Weird Al Yankovic parody one of his songs. She comically suggested that Weird Al change his song "You Are Loved" to "You are Hung." The audience roared with laughter. Another audience member asked him, "If your life could be like any character on TV, who would you be?" He responded by saying Alf from the Muppets (because he looks like him), or Steve Urkel from Family Matters (because he's just that dorky and adorable.) Lastly, when asked if he is ever had any embarrassing autocorrect moments, he said his iPhone likes to change "Groban" to "groping."
Groban fondly told audience members a story of his younger days, when he would go to camp in Maine. His favorite part of the whole trip was visiting Boston for a week before going off to camp because of its rich history and culture, and delicious "lobstah." After the concert, he tweeted, "Boston, thanks for making the Garden a place my band and I will never forget. And thanks to our brave guests of honor. #BostonStrong."
Judging from the turnout and audience participation, Boston would like to thank him for attending as well.
Leave a Comment