Celebrating its 75th anniversary, Celebrity Series of Boston has brought 75 pianos that have been installed in public spaces around the city. "Play Me, I'm Yours," by artist Luke Jerram, has taken more than 1,000 pianos worldwide in over 35 cities around the globe since 2008.
The pianos are spread out around downtown, Cambridge, Fenway, as well as several neighborhoods and other areas in the vicinity. The concept is simple: if you see a piano, you can either stop and admire whoever is playing or take a seat and play for others. Anyone and everyone has access, regardless of skills or vocal chords, age or experience.
To make this project more interesting, local artists and organizations were invited to decorate the pianos, making every one of them unique and representing a different idea or mood. The instruments range from displaying rainbow patterns, to polka dots, to more traditional brown wood appearances. However, they all display the same, inviting phrase: Play Me, I'm Yours.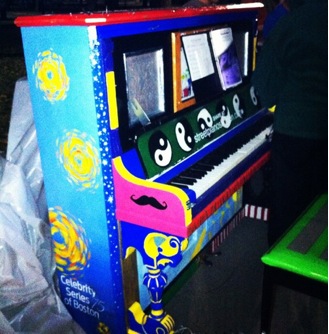 The Celebrity Series of Boston had its official celebration of its anniversary on Saturday, Oct. 5 at The Galleria where the entire community was welcome. Celebrity Series founder Aaron Richmond was a pianist himself, so this project had a special relation to the celebration. The Season Kick-off Party offered drinks, light desserts, as well as various indoor performances to thank Boston for its continued support.
It is quite a thrill to sit anonymously in front of many strangers and tourist and play your favorite song. It is a short rush of adrenaline as your friends are cheering you on and suddenly a small crowd gathers around you with their phones out to capture that moment. Even if you are no Mozart, feel free to take the liberty to bow at the end and thank your "fans".
This project will be in town until Oct. 14. After that date, all (surviving) pianos will be donated. A website is available for local residents to post pictures and videos of their experiences with the pianos. Posts include the date, location, and name of person playing. Updates such as instruments that are unavailable due to rain or other minor problems are also posted on there. To view this website and receive more information visit www.streetpianos.com/boston2013.
Photo credit to Samantha McGilvray. McGilvray took this picture when the Suffolk's Show Choir Rampage was rehearsing in the Common using this piano.