Boy Scouts of America lifts longtime ban on gay youths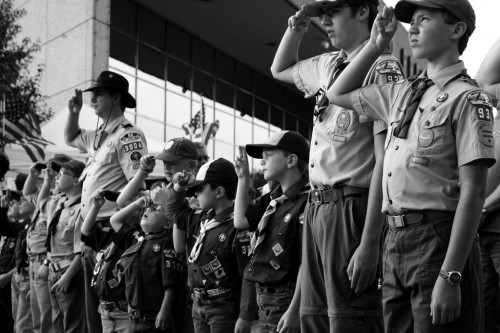 The Boy Scouts of America ended its long divided and longstanding policy of forbidding any openly gay youths to participate in the organization.
This has been a years-long battle that's been tiring, emotionally wrenching, and often loathsome. The win, so to speak, is undoubtedly a milestone of the history of the organization as well as the country as well. For now let's ignore the grievous dismissing of adults in the organization.
The term "boy scout" conjures up the idea of the traditional male, the standard that young men all over the country should hold them to. This admission of young gay males has greatly widened a narrow viewpoint into one that's nearly all-inclusive. This is "traditional" America being allowed the gracious ability to change and progress.
1,400 volunteer leaders from Scouting's 270 councils approved the Boy Scouts of America's proposal with 60 percent agreeing.
This should be noted as a rising in acceptance of the LGBTQ community. The children of America are often looked at as the innocent, the easily corrupted, and the naïve. Yet in the past year we've seen numerous heinous acts being taken against children; to see a victory for them is encouraging. It's surprising that while we still haven't made it safe for them to walk the streets, (those tricky little gun laws), we have assured them a standard of upbringing that will match all children.
This past January the issue met its boiling point when a member was denied Scouting's highest honor because of his sexual orientation, which fueled the fight with a new gusto.
It became yet another organization complying and serving the ideals of the notion of God rather than serving their fellow man and being prepared to face the woes of the world alongside him.
The image of the Boy Scout is one of resilience: they must learn to overcome and in this case, for the most part, they did. Now they'll have to learn to survive the onslaught of blind hatred, media coverage, and adaptation to change.
When you think of Boy Scouts you think of their badges, of them learning to tie a knot, of Moonrise Kingdom and of patriotism, but underneath that is a theme of boyhood and the means through which adults will go to protect them and guide them into adulthood. It's a transition period where a boy turns into a man, and by allowing gay members it's serving yet another, more crucial, lesson to its members. All men and women should be treated equally no matter who they love, and no man or woman should be deprived of the basic fundamental rights they're promised. It shouldn't be a hope but an assumption that sexual orientation won't hinder the future prospects of a young man or woman.
I'm not entirely thrilled with the development (as I mentioned above, out adults still aren't allowed), but I do hold a thread of hope in this matter. There is something promising with this new development because now the ideas of love and acceptance will start with children.
Leave a Comment