Dumped before Valentine's Day
Dan Olson  Journal Staff
One of the five largest winter storms in Boston's history, Nemo dumped a total of 21.8 inches of snow on Beantown.  While there was only one reported storm related fatality, CNN tallied over 600,000 people without power in the following days.
Of course, the major public transit services, particularly the MBTA, were greatly affected by the storm.  After being closed from 3 p.m. Friday through Saturday, all lines of the T extended limited service as early as Sunday evening, resuming full service on Monday morning for rush-hour.
Power outages, delayed public transportation, freezing pipes, lack of heat, and not to mention nearly two feet of snow would greatly alter the lives of anyone, but particularly college commuter students.
Suffolk students live in many areas of Greater Boston and have had a wide range of experiences associated with the storm.
"I remember seeing someone skiing down Glenville Ave," said Morgan MacIsaac, 19, of Allston.  "That's something I'll never forget."
MacIsaac is in her second year at Suffolk and grew up in California.  The biology major is seeing first-hand what a New England winter can do.
"Well one of the biggest reasons that I came to Boston from California was for the snow, thinking every place on the east coast snows every week during the winter," MacIsaac laughed.  "When I heard about this storm I was so excited!  It was cool having everyone home and just snuggling by the TV all weekend.  The town looked so spooky and empty with all of the stores closed and the cars full of snow."
Not everyone had such a picturesque experience.  The monster blizzard sprinkled four to five inches of snow per hour on the metro Boston area and hovered over a path of over tens of millions of people, according to CNN.  Boston Mayor Thomas Menino and Governor Deval Patrick issued a state of emergency and a driving ban, respectively, shortly after the storm approached the Boston area.
In an interview with the Associated Press, Menino is quoted as saying, "This is a storm of major proportions.  Stay off the roads.  Stay home."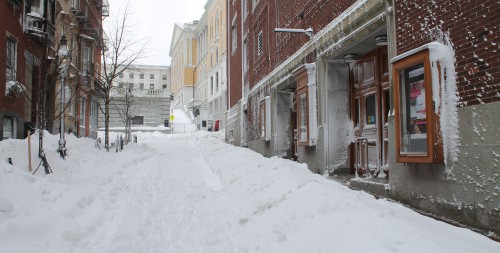 For many, words like these evoke images of the infamous Blizzard of 1978, the largest storm on record to hit the Boston area.  The similarities are eerily striking; the 2013 blizzard hit only two days after the 35th anniversary of '78.  Both storms had snowfall totals between 20 inches to 30 inches.  And, in both cases, the hardest hit towns were Revere, Hull, Scituate and Sandwich.
As the clouds clear and people begin to dig out just days after Nemo swims away, NSTAR is still reporting over 60,000 homes are without power in the metro-Boston area.  However, since the dust cleared, the company has serviced over one-million other patrons, leaving only five  percent of its customers still affected.
Despite the glimmer of hope emerging, Nemo has also left behind a trail of other destructive problems.
"Although I didn't lose power, the freezing temperatures caused my pipes to freeze," said Liza Morong, 20, of Back Bay.  "I was left without heat for 12 hours, which wasn't too bad but still really cold!"
Although Morong's outlook did not show signs of a silver lining, she and her friends created one anyway.
"Me and my friends went outside on Friday night and played in the snow," she said.  "We wanted to make the best of it.  We ran down Mass. Ave. and slide on our stomachs because the roads were completely empty."
Like many others, Morong joined the efforts to dig out herself and others on the morning after.
"Being the youngest person in my building, I wanted to help out…so, I shoveled; through probably a four foot snow drift."
If there is actually any silver lining for all of the Bostonians affected by Nemo, it is that during any natural disaster everyone can work as one.
View Comments (3)