Lady Rams Keep up Winning Pace, Looking for First Seed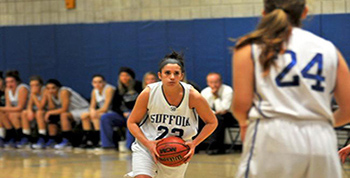 Basketball is one of the most popular team sports in the country, and there might not be a better team than the Suffolk University Lady Rams in the GNAC conference for women's basketball. The Lady Rams have really come together as a team this season, and have proven to be one of the favorites in the conference.
Lady Ram's captain and guard Jacqueline Vienneau knows that the team is not done yet, but that they will have to overcome adversity.
"Our biggest challenge in the past week has been adjusting to the loss of our senior captain and also starter Lindsey Rogers," said Vienneau. "She broke her hand at our Anna Maria game last week. Especially at this time of the season losing a starter and influential leader in her senior season is something that none of her teammates or coaches want to see happen. Although this loss could have brought us down I think it has done the opposite and brought us closer as a team. We have realized that we need to stick together and we hope to have Lindsey back on the court with us for this Saturday's game against Simmons."
Rogers is also a captain, and her loss has definitely had a noticeable impact on the players. Shelby Santini has stepped up into the starting position, and has been a key factor.
This is a big week, three of the five final games for the Lady Rams. There is an obvious urgency to continue winning with the absence of Rogers.
"This three-game week is a very important one for us heading into the final weeks of conference play," said Vienneau. "Our mindset as a team is to focus on taking one game at a time and going into each one mentally prepared to execute our game plan. If we do this along with continue to bring the same energy we've had the last couple of weeks, I think we a very hard team to beat."
The Lady Rams defeated Johnson and Wales 65-39 late Tuesday night, and will follow up by facing UMass. Boston on Thursday, then capping off the weekend with Simmons.
There is no room for error this close to the end of the year, because the Lady Rams could go up to the first seed or drop down to number three.
"Clinching the No. 2 spot in the conference is definitely something that is important to us but I think I can speak for the entire team when I say that it's more of a goal that we have set for ourselves rather than a pressure on us," said Vienneau. "This year's team is made up of many leaders which has made it simple for us to mesh and agree on what our short term and long term goals are. We have all the pieces needed to succeed, now is the time where we come together more than ever and peak as a team."
View Comments (1)