Women's Soccer on the Verge of Making the Postseason
Suffolk University's women's soccer team finds itself on the bubble of reaching the GNAC playoffs with just one game left in the regular season. The Lady Rams currently sit 5-6 in the conference and 5-10 overall, which puts them seventh overall. Only eight teams reach the GNAC tournament.
Suffolk has been able to keep the opposing scoreboard low but unfortunately its own scoring output has not been able to put up more as of late. Over the last six games for the Lady Rams, they have lost four and scored just six goals in the timeframe.
Only two of those aforementioned four losses came against GNAC opponents however, which is one of the main reasons Suffolk still finds itself in the playoff hunt. The team did help their cause by defeating St. Joseph (Conn.) over the weekend to better their in-conference record. That victory gives Suffolk a one-victory lead over both Johnson and Wales and Saint Joseph's (Me.) heading into its final game against Anna Maria today.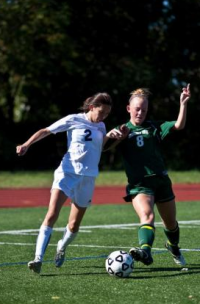 If head coach Ernst Cleophat's team can earn a win against the Amcats, they'll secure their sixth of the season, ensuring their place as the seventh seed in the postseason. Defeating Anna Maria would ensure that no matter what happened with Saint Joseph's and Johnson and Wales' games, Suffolk would be in the playoffs.
In order to do so however, they'll need to get on the scoreboard and the best way for the Lady Rams to do is with junior duo Meghan McHale and Gabrielle Balestrier. The two offensive players account for seven of Suffolk's 14 goals on the season and Balestrier's five assists make up almost half of her team's total of 11.
The best chance for the Lady Rams to defeat Anna Maria is an early goal by the offense such as Balestrier or McHale. Given that Amcats goalkeeper Sarah Benvenuti has surrendered 108 goals this season and the team is 0-11 on the year, Suffolk has to feel good about its chances.
Anna Maria has lost by an average of seven goals per game each game this year and only scored four goals on the year, so Cleophat should feel comfortable if his team can score one or two early goals.
The Lady Rams just ended a recent three-game losing streak last Saturday, which could give them some much-needed momentum on top of who they are playing against today.
Suffolk has an easy route into the playoffs where it marched to the finals just a season ago. In order to live up to reach or improve upon last season's impressive run though, they must first defeat Anna Maria.