Women's Tennis Knocked Out of GNAC Playoffs Despite Strong Finish in The Regular Season
The women's tennis team just finished their season with a 7-8 record in total play while achieving a 4-4 record in the GNAC Championship.
The Lady Rams looked invincible by the end of the regular season, securing a hot streak of four wins in a row including an 8-1 power demonstration against UMASS Boston. Even though the Rams peaked at the right time, it was not enough to beat a very strong and focused Johnson & Wales team in the quarterfinals of the GNAC Championship.
Last year's story repeated itself and the Rams lost to the Wildcats, this time 6-3. Adrianna Garret and Melissa Chermely won their single matches, in the third and sixth singles positions while the duo of Allison Weisenbach and Adrianna Garret won their match in the second doubles spot. Erica Leblanc was extremely close to securing a vital point for Suffolk, but lost in a dramatic three set thriller. Coach Steve Counihan gave his view on the match: "We had a tough game today and we were struggling both in the doubles and singles contests. It is always very important to go out there and get a great start to the match by winning three or at least two of the doubles games in order to intimidate your opponent. That was not the case today. We have to acknowledge that Johnson & Wales did better in both the doubles and singles today".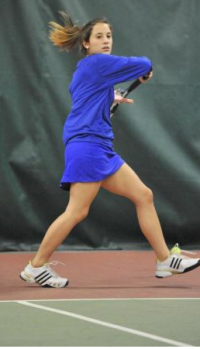 Clearly coach Counihan was not content with the loss, but when asked about his view on the season as a whole, he was more positive. "The season so far has been a little up and down. We got some real good wins and some tough losses. One of the toughest losses was the 5-4 loss to Emerson in the season opener," Counihan said. Suffolk was able to match Emerson that was second seeded in the GNAC competition and finished their season with an 8-4 record. "There is no doubt that success is measured by wins and championships, but what statistics often don't show is the team spirit and the will to improve. Even though we've lost eight matches this season and did not make it to the GNAC semi-finals, I have seen huge progress on the court this season where each player has improved their game. All players have been working very hard, the hard work paid off and I would like to say that Adrianna Garett, Erica Leblanc and Kelly Conrad have improved very much through dedication and hard work," Counihan said.
Adrianna Garett had an especially great season with a 10-5 record in singles while posting a 7-7 record in doubles play. Seventeen contest wins during a season is something we haven't seen since the days of Evgeniya Skorobogatova that posted a 16-2 record back in 2010. With talented sophomores like Garret and Leblanc the future looks bright for the Lady Rams. Coach Counihan shares the same point of view: "I see a lot of talent in this team and I believe we gained a lot of experience playing many tough teams this year. What we need to improve next season is our serves, because it is a vital part of the game and because of the unstable weather conditions here in New England. The weather can change every five minutes, that's why it is very important to being able to have a strong serve that will not be affected by the weather. With all the talent that we have in this team we will not settle for a quarter final spot – next season's goal is to be the top team in our league."
Hopes are high for the next season and The Lady Rams are hungry for the GNAC title that opens the door to the prestigious NCAA tournament. Last time the Ladies won the GNAC Championship was back in 2007.