Mezini serving up success from the graduate level
For Suffolk graduate student Sarah Mezini, tennis isn't just a sport; it helped shape her into the woman that she is today.
Mezini first picked up tennis at the age of five, when she lived across the street from the Lynnfield public tennis courts. Mezini and her father decided to try tennis out together and it quickly became apparent that Mezini was talented. 
Mezini played many different sports growing up, but when it became evident she had a future in tennis, that became her focus.
"We instantly started intense training with not only my dad as my coach, but with other trainers in the area," said Mezini. 
Mezini stuck with tennis throughout her childhood and became a star in high school. During her freshman year at Lynnfield High School, she won the Massachusetts Interscholastic Athletic Association Division III state championship, finishing the season with a record of 22-0.
Mezini's goal was to eventually play Division I tennis, which she succeeded in. Mezini graduated with an undergraduate degree at the University of Massachusetts Amherst, where she received awards such as ITA scholar athlete, Atlantic-10 Commissioner's honor roll and 2018 Atlantic-10 finalist.
Mezini graduated last year from Umass Amherst with a degree in Biology, but was unable to finish her tennis career as her junior and senior year were cut short due to the COVID-19 pandemic. 
After she made the decision to attend Suffolk University Law School, Mezini still had years of NCAA eligibility left, which made her and the Suffolk tennis team a perfect match."When COVID hit, there was a part of me that felt like I just wanted to compete one more year in a college atmosphere," said Mezini. "I wasn't quite ready to let it go so that's why I decided to use that extra year [of eligibility]."
Being a graduate student with Division I experience was not only great for Mezini, it was also beneficial for the other members of the Suffolk tennis team. She was able to provide advice and give tips to many of her teammates, most of whom were younger than her.
"It was definitely nice, especially since I'm a bit older than some of the girls," said Mezini. "Some of them are 17-18 years old and I'm turning 23, so I felt kind of like the mom of the team."
Ilda Ascic, a senior from Bosnia and Mezini's teammate this past season, credits Mezini for helping push her to be the best player she could be.
"She's a great person. She really clicked well with the team as a whole and she was really supportive of all of us," said Ascic. "She's also a great player who played really well this season, it was great to have her."
Looking back at her college career, Mezini had a piece of advice for people who are in a similar situation.
"You can do anything you want even if people tell you that you can't," said Mezini. "Everyone told me I couldn't be a law student and play a sport, but I did it. When people tell you you can't do something, you can always prove them wrong."
Follow Nick on Twitter @NFrieburger
Leave a Comment
About the Contributor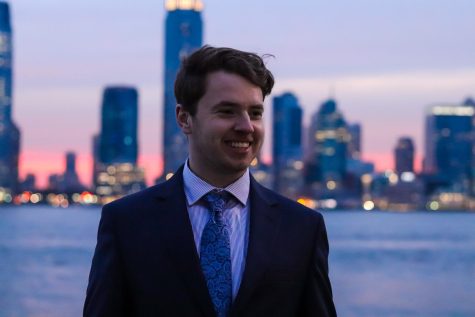 Nick Frieburger, Sports Editor | he/him
Nick is a senior journalism major at Suffolk University and is originally from Kingston, Mass. He is extremely passionate about Boston sports but has a specific love for the Celtics. His biggest claim to fame is watching every Celtics game since 2012. In his free time, he can be found relaxing and watching basketball or football while listening to music.