Womens' Tennis Picks up the Pace in Final Week of the Season
The Suffolk University women's tennis team is going into the final week of the season with a great start, by defeating Mount Ida on Columbus Day 9-0. The win improved their overall record to 5-7, placing them sixth in the conference. The Lady Rams are 3-4 in conference play.
The Rams will now face two more schools at home, with their last one being a conference game against Albertus Magnus. Captain Kelly Conrad feels very optimistic going into the final week of play, and has confidence in her team.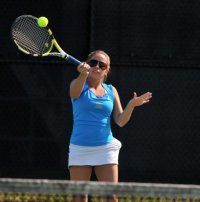 "I feel very optimistic going into the final week of matches," said Conrad, a senior. "The team has grown so much from our first practice and the teams that we lost to early on in the season, I think we now have a good chance of beating."
Although the Rams seem like they are in a set position for the playoffs, Conrad believes that the final two games will really help the team.
"These next two conference games will be important wins for confidence and getting into the zone for the playoffs," she said. "Both teams are very different and will help us in different ways."
"The first team is non-conference but a very strong team, so the strategy against them will be to be aggressive and play like we have nothing to lose. Both matches require a focused and calm mentality, which will be necessary come playoffs."
With one team out of the way, Albertus Magnus stands alone as the last threat to the Rams' record. Erica LeBlanc, who played in the number two spot against Mount Ida, believes the victory is a step in the right direction.
"We defeated Mt. Ida which is great and we are definitely feeling confident about Albertus Magnus," said LeBlanc, sophomore. "Our focus is really on preparing for the playoffs and to do that we have to practice strong and make sure we put what we work on in those practices to use for the final season matches."
Other players, like Stacey Politis, understand the importance of conference games.
"The next two conference games mean the world to our team and to our morale especially," said Politis, junior. "Everyone has had their own obstacles to get through at some point in this season and we've had a tough schedule from the beginning."
The Rams take on UMASS Boston Thursday at 6 p.m., and then play against Albertus Magnus in the season finale.
"We've grown as players throughout the season," said LeBlanc. "We are ready to take these last few matches."
Leave a Comment