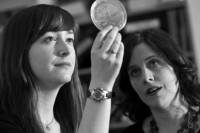 Suffolk University's Department of Chemistry and Biochemistry was recently awarded a $281,540 grant from the National Science Foundation for an intensive new research program. The grant will allow students to research deeper into the transfer of DNA from one cell to another in the bacterial mating process.
"The biggest impact this grant will have is enabling our students to gain valuable research experience earlier on in their training," said Dr. Melanie Berkmen, an assistant professor in the Department of Chemistry and Biochemistry, in a press release on Suffolk's website.
"It's special," said Dr. Martha Richmond, chair of the chemistry and biochemistry department. "It's a very competitive grant. People submit applications for it from all over the country."
The grant will allow top undergraduate students and Berkmen to conduct research on bacterial mating over the next three years during each summer. The money award will also enable Suffolk to purchase a new, state-of-the-art microscope for the research, which Richmond noted, "we wouldn't otherwise be able to afford."
The research on bacterial mating is particularly important for learning about medical advances in biochemistry. "Mating is rampant in the bacterial world and is responsible for moving genes involved in everything from antibiotic resistance to bioremediation," said Berkmen in the website press release. "Thus, mating is of significant medical concern and has played a profound role in allowing bacteria to adapt to environmental changes."
The program will enable Berkmen and students to work closely on the unique research while giving undergrads an extra boost on developing into career scientists. Richmond believes it provides a "wonderful opportunity" to continue educating students and give them "research they can possible incorporate into their senior thesis" or other work beyond Suffolk.
"In the end, what they will have learned from participating in this project will help them to get into top-tier graduate programs and careers in the biosciences," said Berkmen in the website press release. The release also notes that "since joining the University five years ago, Berkmen has mentored 14 undergraduate students. Four are co-authors on papers, eight have presented at national or regional meetings, and three are now in Ph.D. programs."
Berkmen wrote and submitted the grant application to the National Science Foundation to receive the prestigious award and enable her students to have access to the latest and most competitive research programs. "She is absolutely qualified as a researcher and professor," Richmond said proudly of her colleague.