Suffolk students respond to Occupy Boston
Angela Bray and Jeff Fish, Journal Staff
Suffolk students seemed generally supportive of the Occupy Boston movement, even as the group met opposition from the Boston Police for the first time early Tuesday morning.
Attempts to expand Occupy Boston's tent city to the Rose Kennedy Greenway were dashed Monday night after the Boston Police arrested 129 protestors.
Police began to gather around the Greenway at about 12:30 a.m., telling protestors they had to disperse within five minutes or face arrest. When the protestors did not listen, police converged on the camp and dismantled it.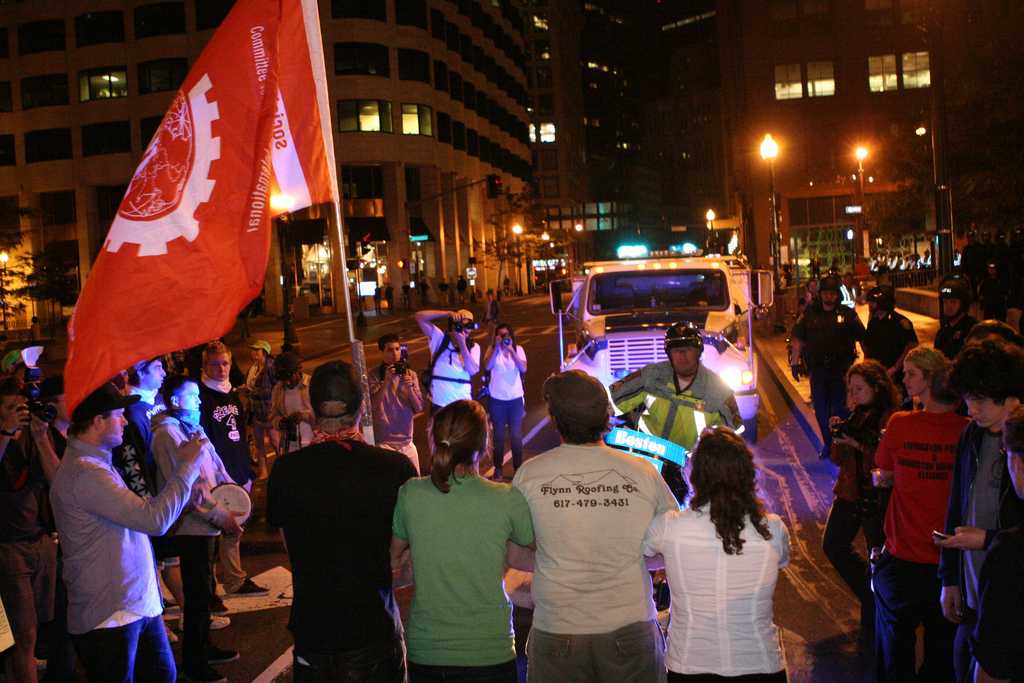 "I've seen a lot of the media coverage as of late, and I think it's appalling that they arrested [129] people for no good reason," said Clayton Nickell, a Suffolk freshman. "The city's been supportive thus far… but recently, things have just been getting out of hand."
The legality of the entire operation is in question, as the occupiers had verbal permission from the owners of the Greenway to use the space.
"When it became apparent there might be conflicts with the police, we got reps to train how a non-violent protest operates," said Jason Potteiger, a Suffolk University alumnus of two years. "From the beginning of this movement, everyone agreed it would remain non-violent."
"[Yesterday] at 1:30 a.m., police drove down Atlantic Ave. and did not adopt a non-violent approach toward the protestors," he said. "I am so proud of everyone in the face of police misconduct who remained non-violent when being pushed, thrown to the ground, hit."
Veterans For Peace were also present Monday night to support Occupy Boston, standing between the protestors and the police. According to Potteiger, police threw down and handcuffed them. He also said one veteran, who he believed to be 74 years old, was thrown to the ground twice and injured his knee.
Potteiger became involved on day one, which was two weeks ago on Tuesday, September 27. "It started after Wall Street began and people in Boston thought it would be cool to start a Facebook group. Then all these people started joining it."
He said that's when the [September 27] meeting was suggested, to which "a little over 2,000 people" showed up. Three days later on Friday, they set up in Dewey Square. According to Bloomberg, 3,000 people gathered.
"I got involved because of the fact I'm two years out of college, getting work on-and-off, but not assigned a full-time job. I look at the people I know who want to work and have families. It affects our whole generation."
"It's an economic message about the concentration of wealth and the negative affect it can have on our society," said Potteiger. He added the press is negatively portraying the movement, saying there is no clear message.
"From my point of view, [the press] is not listening," he said. "It clearly says on the website, and there are a lot of issues that fall under those categories. We get a lot of people walking by thinking the people here are just looking for a handout and saying, 'go get a job, go work at McDonald's, you just need to pay off loans.' But everyone I've talked to here wants to work and pay their student loans. They feel like the opportunity that used to be abundant in this country is gone."
Potteiger went on about students investing so much money on education and time working internships and getting nothing after school. "They never did anything wrong. The wealthiest one percent is opposed to having their taxes raised from 35 percent to 39.5 percent. When you look at that, it's just insulting. Everyone wants to start families and careers."
Freshman Riley Sweeney supports the cause, "but I don't think a lot of students know about what's going on," she said. "The protests on Wall Street have been going on for weeks. I think it will last a while here."
Sweeney attended the first two general assembly meetings and has witnessed the protests. "People held signs with their total income last year and how much they were taxed, compared to that of huge companies."
"[Riley and I] went to check it out," said Rachel Marroquin, also a freshman. "Everyone was totally for it."
"Most signs said 'We are the 99 percent,'" Sweeney added. The two also recalled "Cut back, fight back" chants.
"As long as they stay within the confines of the law, we support their right to protest," said Justin Dulak, a junior and president of the Suffolk Democrats. "The tea party staged a similar event last year on the common. If they're allowed to do it, then Occupy Boston should be allowed to. I do agree with their message that we need to find alternatives to the current path that the government has taken.  The policies the government has enacted so far haven't worked. We need to investigate the alternatives available to us."
The SGA has not taken an official stand on Occupy Boston, said President Megan Caron. "For us to take an official stance would be unfair and not [necessarily] represent the students."
Caron heard that some professors are encouraging students to observe the protest as a social movement regardless of their opinion on it.
SuffolkGOP was unavailable for comment.
Sophomore Patrick Munnelly got involved with an organization called US Uncut two years ago. "It's an organization responsible for exposing corporations who don't pay taxes. The main organization we've focused on and protested is Bank of America," he said.
In March, there was a protest at bank of America in Kenmore Square. In April, US Uncut got involved with Occupy Wall Street by helping to promote it. Munnelly recalls seeing videos of protestors [on Wall Street] being attacked and sprayed with pepper spray.
He attended the meeting two weeks ago at the Boston Common. "We had the meeting about goals and where to occupy," he said. "Dewey Square is a really central location- outside of South Station, heavily trafficked and by the financial district."
"The original list of demands was to make everyone pay their taxes and help out the poor… the top one percent of the population is the population that's not struggling and paying their taxes," he continued.
He said he heard the list of demands may be shifting directions, but remains for the original cause about everyone paying their taxes.
"It's a different feeling when everyone's gathered for the same cause. Everyone's there for different reasons, but that they're all there makes it very powerful."
Potteiger said Occupy Boston is trying to being in more speakers, and suggests people, especially students, who want to learn more about the movement should stop by over the next couple of days. Also, on occupyboston.com, is a link to the student chapters around Boston. "It's important to come see what it's all about," he said.
Matthew Bacon of Journal Staff also contributed to this report.
View Comments (1)