New union at Suffolk
Article by: Alex Pearlman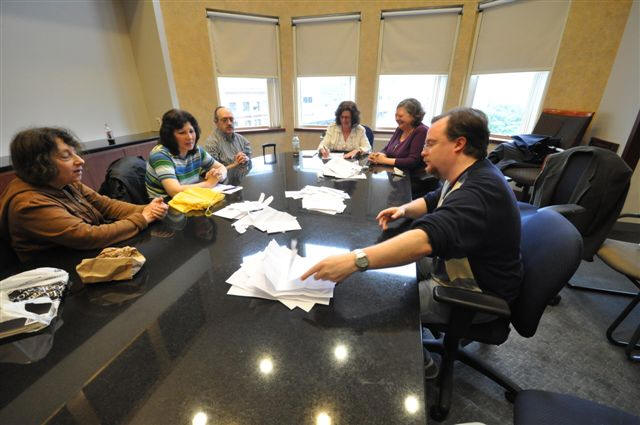 This article is the first of two installments focusing on the recently formed part-time faculty union at Suffolk. Part two will be published next week for the Oct. 21 issue of the Journal.
Posters with Rosie the Riveter have recently lined the walls of Suffolk University buildings urging part-time faculty to join the Suffolk Affiliated Faculty / American Association of University Professors (SAF/AAUP) union.
Kenneth Martin, photography professor and President of the Suffolk chapter of the union, was instrumental in getting a contract negotiated between the University and adjunct faculty, who, for three years, have been struggling to come to an agreement.
Finally, the parties signed a Collective Bargaining Agreement, which took affect Sept. 1 and adjusts salaries of part-time professors, gives medical and dental coverage and specifies grievance policies, as well as other major changes to part-time faculty rights and employment regulations.
According to the SAF/AAUP website, the contract adjusted salaries of adjunct professors (now referred to as lecturers) by 30-45 percent, a 65 percent premium coverage of medical and dental expenses and an elective 403b retirement plan for lecturers who have taught two classes per semester for five or more years.
"For me, its been a great thing," said Martin, smiling in his office on the fourth floor of the Ridgeway building. "Close to half of the lecturers in the university are joined."
After nearly 25 years of teaching at Suffolk, Martin attended an AAUP meeting and saw that there were others on campus who were thinking along the same lines as he was, in terms of starting a union.
"I was motivated to stand up when others wouldn't," said Martin who attributes his drive to being a photographer and artist. "And the people who joined at first were artists, poets, writers, people from the English and Philosophy departments… we decided, all these like-minds, we're going to do this and we did it."
Before the union formed at Suffolk, all there was in regards to adjunct faculty rights and regulations was a small handbook printed by the university, that according to Martin, had no real input from the adjuncts, they simply had to follow what it said.
Also, at that time, the adjuncts' "pay lagged behind that of other part-time faculty in the city" of Boston, according to an article published on AAUP's website.
With a team of other lecturers behind him, negotiators from Emerson and Curry Colleges, as well as representatives from Suffolk, the team sat down in July to negotiate the contract.
Divided into 25 parts, or Articles, the 23-page document touches on such topics as academic freedom, workload, and promotion.
Promotions will now be divided into two levels: Lecturers, who are professors who have taught in CAS for "fewer than twelve consecutive semesters," and Senior Lecturers, who have taught for "twelve or more consecutive semesters."
The pay difference between Lecturer and Senior Lecturer fluctuates, but is close to a $1,000 gap per semester and is listed in the Compensation section of the contract.
Martin sees only positives in the outcome of the contract, even though some of the original ideas for the union were negotiated down.
"I see a lot of people with smiles on their faces, people are thanking me, and every day there are more applications in my P.O. box," said Martin.
Since the contract was signed, the SAF/AAUP have concentrated their efforts to convince more and more lecturers to sign up.
Posters, e-mails, newsletters and even face-to-face conversations are only some of the ways Martin and others are attempting to get their colleagues to join the union.
"The most important thing is that we're in the midst of our first membership drive," said Martin. "There's strength in numbers. We want everyone to be involved. We're happy, the university's happy, we're partners."
Leave a Comment