Author discusses book, offers advanced purchase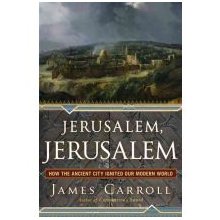 Boston Globe columnist, author and six-year Suffolk Distinguished Scholar in Residence James Carroll discussed his latest book Jerusalem, Jerusalem: The Ancient City that Ignited the Modern World with Robert Jay Lifton, psychiatrist and National Book Award-winning author at the Modern Theatre Monday evening. The Suffolk University community was among the first few to purchase and preview Jerusalem, Jerusalem, which is anticipated to be officially published on March 9.
"This is my first opportunity to present my work and I am glad to be sharing it with my Suffolk community," said Carroll.
The discussion with Carroll and Lifton was followed by a second involving audience members who were invited to ask questions or present comments. Attendees varied between Suffolk students and public fans of Carroll's work.
" The discussion really opens your opinion on certain topics; I didn't realize the depth and meaning behind some of the things that were occurring in Jerusalem. It is really interesting," said student Rayvin Scott.
Carroll's research and reading of the past has lead to the theory that the Bible's brutality was a response to the violence that threatened Jerusalem from the start. Tracing the threads of Jewish, Christian, and Muslim history, Carroll illuminates the growing European fixation on Jerusalem as a result of racist colonial contempt. Carroll also mentioned his concept as to how Christopher Columbus carried a Jerusalem centered world-view when traveling to the West. Jerusalem, Jerusalem traces the history of the sacred violence that is rooted in an understanding of the city as the presence of god sets in on the world.
"If you embrace secret violence, you are leading to an immoral human being. The idea of apocalyptic violence and that the world must be destroyed in order for the world to be renewed and pure," said Lifton.
Carroll explained the title of the book has the word Jerusalem twice because it is about two cities: the real place of Jerusalem and the idea of Jerusalem, and how they interact with one another. He continued to describe how Jerusalem becomes a defying note as what America is to become.
" The Israelis are trapped by walls they did not create, walls that we as westerners attempted to create and that is what my book attempts to explain," says Carroll.
The discussion was brought to end with a book signing in the lobby of the Modern Theatre where audience members were able to purchase advanced copies of Carroll's book Jerusalem, Jerusalem: The Ancient City that Ignited the Modern World and speak with Carroll.
Leave a Comment