Lollie pops online clothing biz
Article By: Angela Bray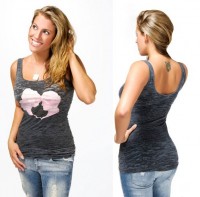 Are Hollie MacLennan and Lola Finocchiaro, the founders of the Lollie Clothing t-shirt line, the next Johnny Cupcakes?
Lollie is simply a combination of the creators' first names. "We both like and want to create things you can't find in the mall," said Suffolk senior MacLennan. They make what they like; the designs on the shirts are not just typical. "We have ideas and go with them, hoping to make everything work. We want to print shirts that are crazy and out there."
MacLennan conceptualized the shirt ideas along with Finocchiaro. "I made them all come to life in Photoshop. Two designs in particular, I had friends draw up; then I scanned and edited them further," said MacLennan. Designs are printed on shirts with "a soft vintage feel" from the wholesale distributor Alternative Apparel. According to the website, "models were freaking out over it."
Besides shirts, there are a couple necklaces available for sale.
"I was always into D.I.Y. when I was younger," said MacLennan. "I tried to make my own shirts, and also made purses to sell on e-bay." The Communication major began over the summer while receiving credits through a Summer II Internship with the chair of the Suffolk's CJN department, Dr. Bob Rosenthal.
With all their work, the two designers have opportunities ahead of them. The website, which went up in September, includes updates and information about the Lollie crew, which includes the creators as clothing models, as well as another Suffolk senior, Voula Venetis. An addition future site feature titled "hookbook," will allow fans to uploadload photos of themselves clad in Lollie designs. The Facebook fan site was created in mid-October, and currently has over 1,500 fans.
Since it opened for business, the Lollie Clothing store has been receiving orders and customer support. A future goal is to try and enter some Boston boutiques and have a table at Suffolk. Everything has been running smoothly, but it isn't always easy.
"Trying to do it all in a certain amount of time is one of the challenges," said MacLennan. "The process has helped us to learn what can go wrong as we work with distributing and printing, all while trying to launch on time. We wanted to launch before the fall, but kept getting pushed back." Lollie Clothing is intended to target consumers in the late-teen and college age range. "I'd say ages 18-30, but we're open to anyone wearing our items!" said MacLennan.
Lollie's future design plans include backpacks and purses while t-shirts and necklaces are currently available in the online store, www.shop.lollieclothing.com.
View Comments (1)