Suffolk student finalist in beauty pageant
Delia Mooney
November 11, 2009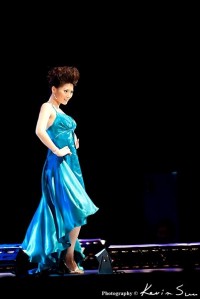 Suffolk University junior Jolin Shang was selected in August as one of the thirteen finalists for the Miss New York Chinese Beauty Pageant, one of the largest, most influential beauty pageants along the East Coast.
According to Shang, who came moved to America to attend Suffolk in 2006, this event gives young women the opportunity to explore their Chinese heritage and culture and gain the confidence they need to succeed in a diverse society.  "Since the inception of the event, the organizing committee has been dedicated to promoting the minority cultural heritage, international cultural awareness and community significance."
Double majoring in Global Business and Finance at Suffolk University, Shang has been able to broaden her understanding of American culture, which has assisted her during her pageant career.
"Being the Miss NY Chinese, we are expected to have the 'global mind,' which means speak for the majorities," Shang said. "We are not only representing the Chinese culture, we represent our generation who care about the world."
Shang had to perform at three different events to qualify for a spot as a finalist; self introduction, question and answer in swimsuits and talent portion.
"The swimsuit was quite hard for me because it was a little weird to wear a swimsuit in the house with everyone's attention," Shang said.
During her question and answer portion, Shang was asked to describe a difficult challenge she had to overcome. She explained a personal connection to an unfortunate disaster she had seen in her hometown of Sichuan Province of China.
"My answer was related to the Sichuan earthquake. It was such a pain to witness the horrible disaster destroying my hometown and killing innocent people," said Shang.
In 2008, a 7.9 magnitude earthquake hit the Sichuan Province and Shang took part in an earthquake relief volunteer team, according to the Suffolk University website.
"The reason my hometown could be repaired so quickly was because of the love and generosity from others," said Shang.
After becoming a finalist, Shang, along with the twelve other girls, was put through a "very tough, yet interesting training program."
They were educated on proper manners, behavioral skills, and public speaking. They also were expected to learn how to pose, act and walk on the catwalk in different outfits.
"At the very beginning, none of us really knew how to do the catwalk. But after three weeks of training, we did a great job," said Shang.
Being chosen as one of the 13 finalist out of 180 other young women was "a great pleasure and compliment. I waited six hours until midnight to receive the message, and you can imagine how excited I was," said Shang.
When it comes to preparing for pageants, Shang stays calm and acts like herself. "I didn't really need to prepare. I think being natural is the most beautiful way to attract people."
Although specified in the title as a "beauty pageant," Shang explained that is it not all about looks. "Personality is the key to differentiating yourself. Being a pageant queen not only requires beauty, but also intelligence, kindness and tolerance."
Shang explained that giving back to the community is part of a pageant queen's responsibilities. "As the queen, she should help the people who are suffering, send the good message to others, [and] be a good model for [the] youth."