Suffolk seniors say goodbye; 'I'm really excited to see what comes next'
As another year has come and gone, it's time to bid farewell to another generation of Suffolk University seniors. 
Although Suffolk's class of 2023 didn't have what's considered the "normal" college experience, their journey was unforgettable. Having entered Suffolk's bustling campus as freshmen, adjusted to remote schooling through the COVID-19 pandemic, dealt with restrictions as in-person classes resumed and now graduating with campus back to full functionality, this class has seen it all.
With graduation upon them, many seniors are finding themselves feeling many of the same emotions they felt when they arrived in September 2019. Some are feeling excitement, some are feeling nervous and some are feeling everything in between. 
"I have a lot of mixed emotions about it," said Morgan Mitcheson, a psychology major. "I am really excited to see what comes next because I feel ready to leave Suffolk and I feel ready to go out into the world, but there's a lot of things about Suffolk that I'm gonna miss that I don't really know where I'm going to find in the real world."
While many are nervous or scared about entering a post-college world, that doesn't mean they feel unprepared. As the seniors get ready to conquer new challenges, they acknowledge that they feel ready thanks to their Suffolk experiences, and are excited about the opportunities coming their way. 
"I think my involvement on campus has prepared me by interacting with so many people from different backgrounds, and [people] that work differently and speak different languages than me," said Irlanda Hernandez-Cortes, an international relations major. "It was a really good mix of different kinds of people that you're gonna work with later in life."
The graduating class also knows that Suffolk will be there to support them through various resources.
"I think what we can still kind of lean on as alums is the Career Center and the opportunities of having resources as alums, whether it be Handshake, the Career Center, again, mentors and being mentees as well, I think that in general is something we can always walk away with," said finance major Angela El-Jazzar. 
As for now, the class of 2023 is focused on making it through finals and enjoying their last few weeks at Suffolk. 
One of the perks that many are looking forward to is Senior Week, a series of special events for the graduating class, held the week after finals end. This year, seniors will have opportunities to attend a trip to Foxwoods Resort and Casino, one more Suffolk sponsored Red Sox game and a sparkling toast at 73 Tremont, among other events.
"I think the sparkling toast will be fun," said Mitcheson. "I'm hoping most people go to that, be able to hang out with everybody, see everyone again, it'll be really cool."
The end of any era naturally comes with time for reflections. As the senior class gets ready to move on to the next phase of their lives, they take with them countless memories and experiences that they'll always be able to treasure. 
Ahkila John, a biology major, was initially on the fence about being a 2022 family orientation leader. After being talked into the role by Orientation and New Student Programs director Alex Paterson, it ended up being John's favorite memory in her time at Suffolk.
"I'm so glad I said yes," John said. "Not only did I have a great time, but I got close with all of [the orientation leaders] and I consider [them] my closest friends."
El-Jazzar said planning Suffolk's Flo Rida concert in spring 2022 will be something she always takes with her. Unsure of how the student body would respond to Flo Rida being the headliner, she found that it ended up being a great opportunity to bring the entire class of 2023 together, as well as the rest of the Suffolk community.
"We sold out and I saw people from literally September 2019 up until we had the concert last year show up," El-Jazzar said. "[It] kind of just gave a sense of nostalgia, and I was just very humbled by it to experience that, 'Hey, we're here. We have one more year of college,' we were juniors last year and it got all the community together."
While the class of 2023 will never be replaced, a new group of students will be ready to embark on their college journey in the fall. A common message that the seniors want to leave behind is to get involved and take care of yourself. 
"Have fun with each other and be sure to meet as many people as possible," Mitcheson said. "I feel that a good experience at Suffolk, and a good experience in college in general, is meeting people and trying new things. I would also say to keep in mind that you come first. Nothing else ever comes before you, even schoolwork."
As the sun sets on the class of 2023's time at Suffolk and its members get ready to tackle bigger and better challenges, its members know they'll always have a place at Suffolk and they'll have a place with each other. 
"We are a university that spreads its wings with alumni all over the country, as well as the globe," said El-Jazzar. "So just encouraging the seniors to stay connected because for me, personally, these past four years have been such a learning and growing opportunity and I'm so grateful for this class specifically. So shout out to the class of 2023, and if I see you on the streets, tell one another to say hi."
Leave a Comment
About the Writer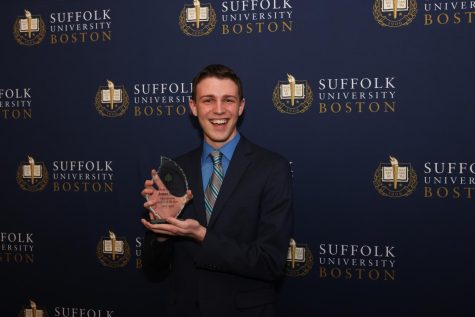 Jamie Taris, Managing Editor | he/him
Jamie is a senior broadcast journalism major and public relations minor from Pelham, New Hampshire. He has a deep passion for sports, especially hockey and football, and hopes to one day be in the sports media field. When he's not obsessing over the latest sports news, you can usually find Jamie hiking or camping in the White Mountains, or spending time with his friends and family.