Suffolk Flag Football rushing strong in second semester
After starting the year as a brand new club, Suffolk University's flag football team played its first game against Boston University on April 2 and is planning to schedule more games in the future.
This club originally began as an idea in the spring of 2022, created by a group of friends in the absence of a tackle football team on campus.
"I've played football my whole life pretty much, and when I went into college there was no football team," said Kampei Yachigo, the club's president. "My friends and I were just throwing a football and we decided that we can't play pat football, but we can do something about this."
The flag football team creates an opportunity for Suffolk students to get out and exercise for free without the time commitment that's required to play for the school's Division III teams.
"Since there's no gym requirement in college, I think being able to be out there with a group of friends and participate in something athletic is very important," said Liam Devlin, one of the club's players.
Getting off the ground, the club struggled with something that a lot of new groups tend to struggle with: getting its first members involved.
"During our very first practice in the fall, we only had [around] three members. We set the date on a Sunday morning too, so it wasn't a good time," said Yachigo. Since its creation, SUFC has changed their start time to noon.
Fast forward to this spring and the club now estimates that it has around 35 to 40 active members, growth that's been encouraging to people who've been with the club for a while.
"It's pretty crazy. When we had our first [spring] meeting we were not expecting anyone to come. We had a bunch of people sign up online, we had about 70 people sign up, but that's just a number," said Ben Walton, another player on the team. "We were waiting to see how many people came in person and we were pleasantly surprised. I think pretty much every practice has been bigger than the one before."
Now that the club has gotten past the initial challenge of getting people involved, they were able to schedule and play their very first game against Boston University.
"The BU game was very competitive but we all had a good time. It was all about enjoying the game rather than being competitive," said Yachigo.
Rather than trying to be ultra-competitive, the club prides itself on being open and inclusive to all members, regardless of their level of experience or athleticism.
"It doesn't matter if you've never played before, it doesn't matter if you've played a ton, it just doesn't matter. Anyone who wants to come and hang out and get a little exercise, catch a couple footballs, you are welcome," said Walton. "We have a pretty diverse group of people. I've never played football, we also have a couple kids who played football in high school. We also have Kampei obviously, he played football to a pretty serious degree. So I think really anyone who wants to come is more than welcome to."
People who may want to join the club but don't have much experience wouldn't be alone, as many of the club's members join without any prior flag football experience.
"I think it's a great way to come out and see if you like it. Probably 90% of the team have never played football before," said Devlin. "All of us have had some sort of experience with any other sport and we use those elements from other sports to our advantage in this game."
This welcoming attitude is something that's helped the club solve their initial problem of building a community, as it brought groups of friends together with new people.
"In the beginning, you could tell there were certain friend groups that were together, but by the second practice everyone was all together and we became a full team," said freshman Matthew McCarthy, a player on the team. "I'd say that I'm close with everyone there, I've had a conversation with all of them, they're super cool guys."
McCarthy added that the club's welcoming atmosphere extends to the field too. 
"The club's pretty easy going. Our main thing about it is to just have fun. That's the whole thing that we prioritize, just making sure that everyone's having fun. At the same time we still have that competitive edge to us where we still want to win games," said McCarthy.
Although they would end up losing their game against BU by a score of 28-17, playing their first game was still a very important milestone in the history of their new club.
"My vision is to start a club flag football league within Boston so that we can do more events, attract more of an audience and raise money for charity," said Yachigo. "This sport has a lot of potential. A lot of kids want to play and the bar is very low, anyone can play. It's definitely a great chance to promote this sport."
While forming a club league may be more of a long-term goal, getting to play their first game against BU sparked excitement in the club and they're itching to find more teams to play against.

"It would be nice to play other schools other than BU. I think we're fully capable of playing other schools and holding our own out there," said Devlin. "We had no idea what to expect in how we were going to play against that team, and the fact that we played the way we did shows that we actually have something good going on here."
Now that the club knows it has enough active members to start playing games, they're hard at work trying to schedule more games in the not-so-distant future.
"We're reaching out to Harvard and we're reaching out to Brandeis University," said Yachigo. "Brandeis has intramural teams, so we could definitely find some teams to play. Harvard used to play last year according to the BU president, so we're trying to get them back in this flag football community."
Although they're now trying to schedule games, there's just one issue the team's currently facing: they don't have a field that they can consistently use for games, so they have to travel to other schools.
Currently, Suffolk doesn't have a Division III football team or its own football field, but this club is providing some members a way to bring the sport they're passionate about to Suffolk in a form anyone can play.
"Coming to Suffolk, we're not really known for our sports. We're not known to be a big sports school like Alabama or anything like that. We're just known as the little school Suffolk," said McCarthy. "I want to give Suffolk a little bit more of a name. Have it be known for something else. Why not bring football into that?"
The flag football club is quickly establishing itself as an emerging club here at Suffolk, and for them, the more members they have, the merrier.
"Everyone is welcome. If you think that you aren't fit enough or that you're not good at football or anything like that, we don't care. There's a place for you on this team," said Walton. "Just seeing more people show up every day is what makes it fun."
Suffolk's flag football club is planning to play what they're calling a "revenge game" against BU at East Boston Memorial Field April 23 at 12:30 p.m.
Anyone interested in joining the flag football club or any team wanting to schedule a game against them can contact Yachigo on Instagram at @kampei.y
Leave a Comment
About the Writer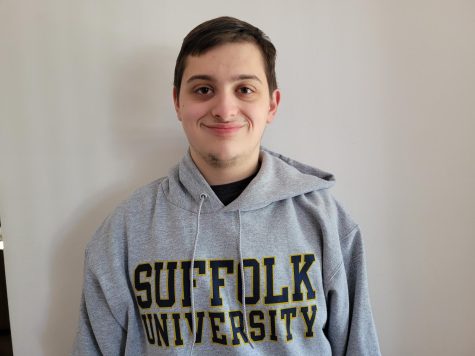 Joseph Dimino, Staff Writer | he/him
Joe is a junior journalism major from Revere, Mass. When he has free time, he can be found in Suffolk's VGA room or watching Boston sports. He's particularly a fan of the Celtics, Patriots, and Red Sox! When he graduates, he hopes to become a sports journalist covering Boston sports.