Theater Dept. works the Modern with spring musical
Suffolk University's Theater Department delighted audiences with its annual spring musical April 13-16, "Working: a Musical," an insightful show that questions what it means to work in America, at the Modern Theater.
Directed by Wesley Savick, "Working" is a musical adaptation of the 1974 book by author Louis "Studs" Terkel, "Working: People Talk About What They Do All Day and How They Feel About What They Do." Terkel, portrayed by Vincent Douglas, acts as the narrator and audience surrogate throughout the show as he interviews individuals across America about their jobs through vignettes that challenge people's assumptions about the working class. 
Douglas' bright tenor shined in the opening song, "All the Livelong Day," as he is joined by the ensemble to set the tone for the remainder of the show. Using a loop pedal, Douglas harmonized with himself, creating a striking chorus from a single voice.
The seemingly effortless humor that runs throughout the show starts immediately with poignant commentary on the power dynamics between employees and bosses as Nora Watson, played by Perry O'Neill, recounts her life as an editor.
As the show progressed, the audience saw moments from a range of workers across the United States, from grocery store cashiers, a stonemason, millworkers and a firefighter.
Each actor's dedication to their role was palpable as they spoke or sang about the woes of their occupation. The soloists shined in their individual numbers and the ensemble's voices came together as one powerful entity that could be felt down to the bones.
When the audience wasn't laughing or tapping their toes along to the outstanding score played by the pit band, they were confronted with the political messages of the time. 
Rose Hoffman, an elementary school teacher, played by AJ Aversano, recounts the changing attitudes of children from when she began her career during the Great Depression in "Nobody Tells Me How." With a smooth alto timbre, Hoffman reminisces on the "good old days" when children listened to their elders.
Outside of a grocery store, Emilia Hernández, a migrant worker, portrayed by Desiree Mair, asks patrons to not buy grapes, citing the devastating working conditions the harvesters endure. In a touching song, "Un Mejor Dia Vendra," Hernández recalls her life growing up as a migrant worker from Mexico and being inspired to join the National Farm Workers Association as an advocate for worker's rights by labor leader Cesar Chavez.
Focusing on the sexism prevalent at the time and the move towards feminist ideas, two women with contrasting stories explain why they choose to do what they do. Kate Rushton, a housewife played by Hannah Kupson, describes how people doubt her intelligence because she chooses to stay home instead of working. As she sings "Just A Housewife," Rushton admits that her life feels "unfulfilling," but she chooses to do it for her family.
In a penthouse, Roberta Victor, a prostitute played by Rose Beardmore tells Terkel about her life in sex work, which began as a high school student. She explains that she gets paid for "what 99% of American women go through," and uses being objectified by men to her advantage. 
At the end of Act 1 two workers, played by Isa Blanco and Sam Hackett, sing a duet, "If I Could Have Been." Their voices blended together seamlessly as they hypothesized about what they could have done if they followed their dreams if life hadn't gotten in the way.
Act 2 brought new sounds to the stage, from the honky-tonk tenor of Jacob Schindler as Frank Decker, an interstate trucker, to the soulful voice of Maggie Holmes, a cleaning woman played by Kayla Sessoms. Each story captured a picture of the American workforce with themes that continue to resonate in the modern day many decades later.
In the final number, Terkel takes center stage as he sings about his father, who was his hero, and his own child in "Fathers and Sons." Singing about working to provide his child with a better life, Terkel is joined by other workers who share that although their work is grueling, the pain is worth it for the opportunity to care for their children and set them up for success.
Beyond the stellar cast, the direction and set design provided a perfect backdrop for the show, immersing the audience in the early-70s aesthetic that made it easy to forget it's the 21st century. The projection effects made the numerous characters easy to differentiate and keep track of in addition to highlighting the messages each scene sought to portray.
Leaving the theater, it was impossible to not reflect on "the astonishing dreams of ordinary people" documented by Terkel and brought to life by the cast and crew of "Working."
Follow Leo on Twitter @leowoods108
Leave a Comment
About the Contributor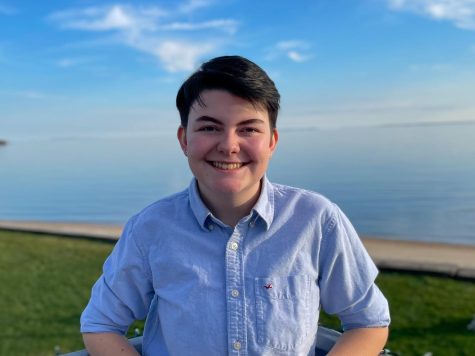 Leo Woods, Photo Editor | he/him
Leo is a senior political science major with a minor in journalism from Clinton, Conn. He has photographed political events, protests, performing arts groups and documented Boston Pride for the People for the History Project. Outside of Suffolk, Leo is an avid Dungeons and Dragons player and podcast listener. After graduation, he plans on attending law school and working in politics.
Follow Leo on Twitter @leowoods108