BAM makes some noise at City Hall Pavilion
Boston Artisan Market's location in the City Hall Pavilion Plaza opened on March 17 and has featured an array of unique artists and their specialized crafts, showcasing what these small businesses of the city have to offer.
This event is one of the first to utilize the new pavilion space that was created in the recent renovation process for City Hall Plaza. The space sits right next to a playground and features a wall of windows and an inviting meeting space where the market was conducted.
The market is coordinated alongside a Black-owned, women-owned tech business called Bogosplit. All the featured artists have their stores set up on this site, which makes them accessible to those attending the market. The company owns spaces across the city used to curate showrooms just like that at City Hall Pavilion.
This service puts ease on the featured artisans, all local small businesses selling specialty items, clothes, skincare, homewares and accessories.
BGJ Design Boutique, one of the specialty clothing vendors, featured unique styles and bright colors on her rack this past weekend. Boutique owner Shannon Sullivan shared on her social media that the company focuses on a range of styles from everyday options to unique pieces.
When asked what the business's inspiration was, Sullivan said, "My three kids, Brianna, Giuliana and Jonas. That's where the name came from. BGJ, first letters of their names."
Sullivan also shared some of her struggles behind the scenes of the creation of the business. Most of her struggles have stemmed from navigating the online landscape like "figuring out which website hub to use . . . Figuring out our target audience, using social media."
Some of her favorite items were on display at the pavilion, like the upcoming season's newest styles. 
The market also featured the unique skincare brand Alila. This local brand, founded by Sara Majane, features a "trailblazing nine-in-one product," according to their website.
Majane shares on the Alila site that she is an advocate for a simplistic skincare routine, which is exactly what Alila aims to provide for people. Before her idea came to fruition, she was doing this mixture at home.
"I wanted something that would enhance my skin, not cover it up," said Majane.
This led to the creation of the Omnia nine-in-one Skin Perfector, which has been the signature product for Alila since its creation. She hopes to produce more products soon. Majane's webpage teases the potential creation of the Skin Perfector with the inclusion of SPF.
"My ambition is to continually create products with real people and real beauty routines in mind," said Majane.
Another skincare brand featured was Mavology. Founder and CEO Mavis Hicks began the line after her own struggle with eczema. Her battle encouraged her to curate her own line using her culinary arts degree. Her want for products that nurture the skin and the person using them is the driving force behind the brand's ideals.
"We strive to achieve a healthy life balance to nurture and blossom self-love, emotional well-being and a state of peace," said Mavology on their website.
Some other vendors had more specialized merchandise. Al-Bean sold shirts with some unique Celtics designs. The prints were collaged references to some of Boston's favorite players, like Marcus Smart and Jayson Tatum.
Evonne Monet showcases its specialty of athleisure style clothing. Founder Evonne Archer is a fitness trainer and athletics advocate, which inspired her own fitness line. The new company is already making its way to the pavilion with an exciting line of athletic wear.
"Evonne Monét is bigger than just a name. It's what it represents. I chose fabrics and styles that move the way I move … That feels great across my skin," said Archer in a statement on the company's site. The company's athleisure incorporates bold colors and unique styles, with a focus on matching sets that can take you throughout your day.
The market also featured brands looking for more accessible sustainable living, like UVIDA, the company responsible for Boston's first zero waste store, according to their website. The company's founder, Maria Vasco, was previously a student at the University of Massachusetts Boston, where she received an entrepreneurship scholarship, allowing her to pursue her store.
She wanted the initiative to center around environmentally conscious consumption, which is why she made strides to be a zero-waste location.
"I want it to be more of a norm for people to care about the environment in their consumption," said Vasco.
The store showcased some of its sustainable living essentials at the pavilion, focusing on candles, soaps and home essentials. Many of their products did not utilize paper or plastic packaging, making these products a zero-waste alternative to what most would find in their average store.
The pavilion's BAM will continue to showcase the unique vendors of Boston until May 7, so consider visiting these vendors at this location to learn more about their unique stories and business ventures.
Follow Julia on Twitter @Julia_Capraro
Leave a Comment
About the Contributor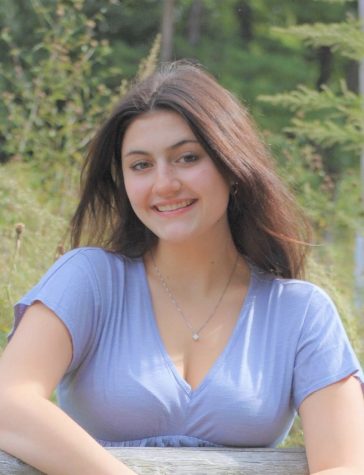 Julia Capraro, Editor-at-Large | she/her
Julia is a sophomore broadcast journalism and psychology major from Canton, Massachusetts. In addition to writing for the journal, she is President of Suffolk Visual Arts Club. She loves cooking, crochet and reading in her free time.