BSU town hall provides Black Studies program updates
Suffolk University's Black Student Union held a town hall meeting April 11, giving community members an opportunity to hear an updated plan for the future of the Black Studies program from College of Arts and Sciences Dean Edie Sparks. 
The update came following a town hall meeting on Feb. 14 to discuss Sparks' proposal to create an Ethnic Studies program, in which students expressed concerns about the new proposed program's threat of erasing the Black Studies program. 
Sparks communicated her decision to no longer pursue the formation of an Ethnic Studies program, instead focusing efforts on developing interdisciplinary course offerings and staff expansions to improve the existing Black Studies program. 
"My goal is not simply to invest in a single faculty member, the professorship in Black Studies, who directs the program, but simultaneously, in addition to that, to really be thinking strategically about how investments in faculty in a variety of different spins around the college can also help to advance offerings in Black Studies courses that heretofore have not been offered and expand the course offerings," said Sparks. 
Among the initiatives is the addition of a tenure-track faculty member and director of the Black Studies program. The hiring process is scheduled to begin in August 2023, with the goal of a start date for the new faculty member in July 2024. Candidates will be from any academic discipline, representing the interdisciplinary nature of the Black Studies program. 
Sparks emphasized the importance of student involvement in the entire hiring process, from reaching out to potential candidates to attending final round interviews and campus visits. 
"There's no better way to recruit an outstanding group of faculty members who are interested in this position and interested in coming to Suffolk than to hear from the students at Suffolk and how enthusiastic students are for Black Studies and to have this new faculty member join us at Suffolk. I'll work closely with student leaders to make sure we get the word out about these opportunities as we move forward with the search," Sparks said. 
For the 2023-2024 academic year, an interim director of the Black Studies program will be selected internally, with the main focus of the role being to support students in the program, a point-person for questions and guidance. 
Sparks also announced that the university is moving ahead with plans to establish endowed professorship at Suffolk in the Black Studies program. According to Sparks, "endowed professorship is one of the highest academic honors that university and campus stow on the faculty member."
Through establishing endowed professorship, Sparks believes it will aid in recruiting and retaining passionate and knowledgeable faculty members in "higher priority areas of the institution," further emphasizing the importance of the Black Studies program to Suffolk. 
Moving forward, Black Studies will remain a separate academic program with an increased focus on interdisciplinary course offerings. Sparks highlighted the appointments of Pascale Florestal and Davron Monroe to the theater arts department to grow the connections between Black Studies and theater arts. 
Leave a Comment
About the Contributor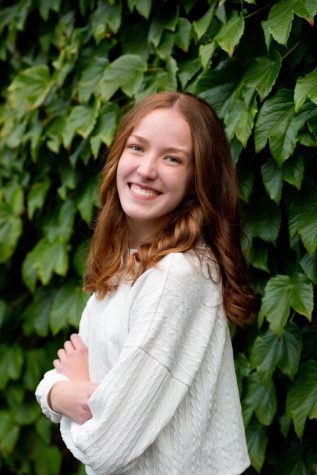 Maren Halpin, Asst. News Editor | she/her
Maren is a sophomore print/web journalism major from Milford, Massachusetts. In addition to writing for The Journal, Maren is a member of Suffolk's track and field team. In her free time, she loves to go to her favorite coffee shops, listen to Noah Kahan and Taylor Swift on repeat, explore the city and spend time with family and friends.