Suffolk celebrates community members at annual Celebration of Black Excellence
Suffolk University's Black Alumni Network, Black Student Union and Black Law Students Association hosted the university's fifth Celebration of Black Excellence on March 24, an evening focused on honoring and celebrating the achievements of students, faculty and alumni. 
The event featured a Black Men in Leadership Alumni panel and awards ceremony, as well as networking opportunities and performances by Suffolk Jazz Band and Soulfully Versed.
"The event was absolutely electrifying as it demonstrated the many contributions Black men and women make to Suffolk, Boston and the broader communities. This is always the objective of the SUBAN and our SUBAN leadership committee," said Tamela Bailey in a written statement to The Suffolk Journal. Bailey earned her JD from Suffolk Law and currently serves as chair of both SUBAN and the Celebration of Black Excellence Committee.
During the awards ceremony, five community members were honored and celebrated. JD Candidate Sharifa Garvey and senior Ahria Ilyas were awarded Outstanding Student Awards, joined by Outstanding Alumni Award winners Jeffrey Lopes, who earned both his bachelor of science and master of public administration from Suffolk, and E. Macey Russell, who earned his JD from Suffolk Law. 
The Outstanding Faculty/Staff Award was presented to Jenny Joseph-Hayle, who earned her MPA from Suffolk and now serves as the associate director of alumni career engagement at the Career Center and an adjunct professor in the Sawyer Business School. Joseph-Hayle said Black excellence extended beyond just an award.
"For me, Black excellence is just being the example or the model for how you'd like other people, other populations, other groups to be like, which is sharing resources and helping each other, you know, uplift each other and use your resource to support and bring people to the next level," Joseph-Hayle said.
She added that this award was particularly meaningful as a Suffolk alum.
"It was surprising to me that it's going to be 10 years since I graduated that I got this award, and that's pretty meaningful," Joseph-Hayle said.
The awards ceremony celebrated the work and leadership of each community member while simultaneously recognizing the ongoing work that needs to be done to continue to improve experiences for students of color both on and off campus. 
"My Blackness is not a metaphor to solely violence, is not an opportunity for tokenism, nor is my Blackness conditional for benefits. It is a symbol for education, liberation, quality representation and a completely valid experience, and I hope the work I do reflects that sentiment," Ilyas said in her speech at the ceremony. 
During the panel discussion, panelist Tony Richards, who earned his master of public administration at SBS, emphasized the importance of placing diversity, equity and inclusion measures at the forefront of every organization and institution in order to truly make progress in creating inclusive and empowering spaces. 
"Diversity and inclusion is not a good side dish. It's the seasoning that you use to cook all the food. It should be baked in and ingrained into everything that's on your plate," Richards said. 
Panelist Anthony Ross, a 1997 SBS graduate, shared his experiences with gaining confidence and respect professionally. After earning his degree from Suffolk, Ross became a senior auditor at Deloitte, an experience that taught him essential lessons he would carry throughout his career. 
"I was the odd person out, I didn't fit in, obviously being one of nine Black people at a firm of 1000 plus, that was a little shocking as well. But just coming into that experience, you always felt inadequate, you always felt underprepared or not fitting in. It was definitely challenging," said Ross. "My advice to students and individuals is to just keep persevering. Stay focused on what your strengths are, and continue to fight through." 
Throughout the event, panelists, event organizers and award recipients alike emphasized the importance and value of making personal connections, networking and surrounding oneself with a supportive community of people. 
"It's so important that we're talking about networking as a panel today because networking goes a very long way. I did not know what I wanted to do, but it was through my mentors and them talking to me about what I'm passionate about and I'm interested in that I ended up here," said Garvey following the presentation of her award. 
View Comments(1)
About the Contributor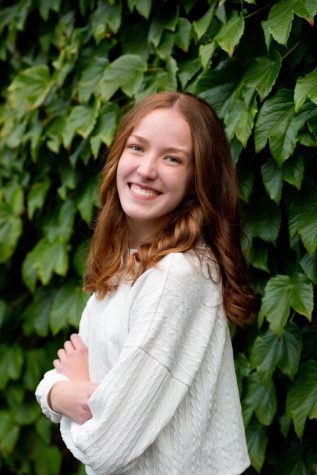 Maren Halpin, Asst. News Editor | she/her
Maren is a sophomore print/web journalism major from Milford, Massachusetts. In addition to writing for The Journal, Maren is a member of Suffolk's track and field team. In her free time, she loves to go to her favorite coffee shops, listen to Noah Kahan and Taylor Swift on repeat, explore the city and spend time with family and friends.