Kali Uchis shoots for the moon in newest album
Kali Uchis brought her third album, "Red Moon in Venus," into our orbit with a romantic, feminine design.
Uchis rose to fame in 2018 with the release of her first album, "Isolation," which has over 900 million streams on Spotify to date. Following her entirely Spanish sophomore album, "Sin Miedo (del Amor y Otros Demonios)," fans have been eagerly awaiting the Grammy-winning artist's next album, and she did not disappoint. 
Uchis seamlessly blends genres together as she sings about the excitement of being in love and the hardships one faces. With such an overdone concept, it could've been easy to put out an unoriginal album, but signature to her character, Uchis found a way to reinvent it.
The album starts with an ethereal sound as listeners are whisked away into Uchis's romantic world with the less than one minute-long track "in My Garden…" effortlessly blending into the album's first single, "I Wish you Roses," which is the most streamed track.
The singer's first single met listeners with a fairly stagnant background tune compared to the later tracks in the album, but this proved to work well for the R&B artist as listeners will feel enveloped in Uchis's smooth voice as well she sings about budding love. The singer beautifully compares herself to a delicate rose as she sings about her overflowing love, saying "my petals are soft and silky as my sheets / so do not be afraid to get pricked by the thorns."
With three features on the album, one shined while another could've been left on a different planet. The album's second track, "Worth the Wait" featured beloved singer-songwriter Omar Apollo, and the pair's sweet vocals did not disappoint. As the two sing about two lovers not wanting to leave each other's side, fans will find their ears filled with impressive high notes and a signature R&B feel.
However, "Fantasy" features rapper Don Toliver, who also happens to be Uchis's boyfriend. I wish this song had stayed a fantasy because reality isn't that great. Despite the rest of the album being an impressive mix, the duo falls short here. The track doesn't possess any unique sound and feels like every other overly autotuned dance song. 
Toward the middle of the new release, Uchis leans into her sensual and sultry sound as she sings about how beautiful love can be. "Love Between…" will put listeners in a trance with its smooth sound, and the follow-up track "All Mine" continues the beguiling sound. Uchis sings about being possessive of a lover and wanting everyone to know about your relationship, a feeling not uncommon to most of us.
Staying true to her Colombian-American identity with a few Spanish-titled tracks, "Como Te Quiero Yo" and "Hasta Cuando" are sung in a mix of Spanish and English. The first track starts off slow and seductive, describing needing and wanting someone all the time. As "Hasta Cuando" goes on, Uchis gets more into the downs of a relationship, and though she sings about an ex who continues to wrong her, the upbeat instrumentals and rap bridge will empower listeners with her femininity and confidence. 
Something listeners can appreciate throughout the astrology-themed album is Uchis's way of portraying her confidence in the realm of love in a way that doesn't come off as self-obsessed. In "I Wish you Roses" she sings "While I'm here, I'm someone to honor / when I'm gone, I'm someone to mourn" and in "All Mine" she tells others "Every time I see you smile, that's all me / And if they thought they had a chance / I'm sorry," and because Uchis sings these melodies so effortlessly well, listeners can't help but feel her confidence is contagious.
The more upbeat tracks on the album will have fans wanting to dance around their room with tracks like "Endlessly" with its funky background and catchy chorus, and "Happy Now," the album's final track which sends us off with a cheerful, lighthearted feeling.
"Red moon in Venus" is an album dripping with confidence and sensuality that will have listeners grooving through the ups and downs of a relationship without a single tear shed. 
"Red Moon in Venus" is available to stream on all platforms.
Follow Abby on Twitter @astreabbs
Leave a Comment
About the Contributor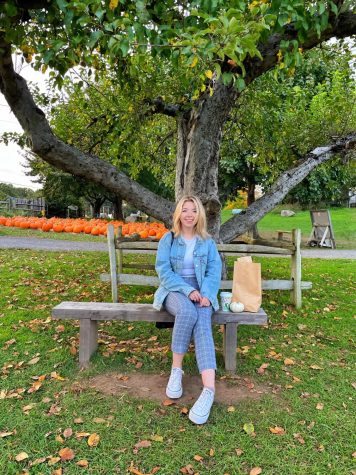 Abby O'Connor, Arts & Entertainment Editor | she/her
Abby is a senior majoring in print/web journalism and minoring in english. When she's not writing for the Journal, you can find her sipping a cup of coffee either reading or playing video games. She also enjoys spending time with her dog and going on hikes. Music and arts is her passion and she hopes to find a job writing about what she loves.
Follow Abby on Twitter
@astreabbs
Email her at
[email protected]