In the nation: Murdaugh sentenced, NTSB investigates Norfolk Southern, U.S. seeks to address bird flu
Former South Carolina lawyer Alex Murdaugh sentenced to life in prison for murder of wife, son
Alex Murdaugh was sentenced to life in prison for the murder of his wife and son on March 3 after a trial and investigation that gained national media attention.
Murdaugh was convicted of murder on March 2 after the jury deliberated for less than three hours. He was also found guilty on two counts of possession of a weapon during the commission of a violent crime, according to the New York Times.
Murdaugh, who was formerly an influential lawyer in South Carolina, was chastised by the judge during sentencing due to his family's history in law, according to the New York Times.
"Over the past century, your family — including you — have been prosecuting people here in this courtroom, and many have received the death penalty, probably for lesser conduct," Judge Clifton Newman said.
Murdaugh's father, grandfather and great-grandfather had all worked as head prosecutors in the area where Murdaugh was put to trial. Prior to the trial, the New York Times reported that Newman ordered a portrait of Murdaugh's grandfather be removed from a wall at the courthouse.
Murdaugh was arrested and charged with murder after reporting his wife and son had been shot at their hunting property in rural South Carolina back in June 2021. 
During Murdaugh's testimony, he admitted to lying to police about where he was at the time of the murders. He first stated he was napping in the house, and then formed a different alibi saying he was visiting his sick mother, according to the New York Times. 
The New York Times also reported that Murdaugh confessed to stealing millions of dollars from his clients and his law firm during his testimony. Prosecutors believe he murdered his family to pause the investigation into his finances that was soon going to reveal his embezzlement.
The NTSB begins investigation into Norfolk Southern safety procedures
Following a major derailment of a Norfolk Southern Railway train in East Palestine, Ohio in February, the National Transportation Safety Board said it would begin an investigation into the company's safety practices. 
The NTSB cited five significant safety incidents involving Norfolk Southern trains since December 2021 in a press release on March 7. Three of the five incidents resulted in the death of Norfolk Southern employees, on Dec. 8 and 13, 2021 and March 7.
"The continued safe operations of Norfolk Southern is vital to the United States. The NTSB is concerned that several organizational factors may be involved in the accidents, including safety culture. The NTSB will conduct an in-depth investigation into the safety practices and culture of the company. At the same time, the company should not wait to improve safety and the NTSB urges it to do so immediately," the press release said.
The corporation has faced criticism for its response to concerns over the hazardous materials spilled in the Feb. 3 derailment. 
Another Norfolk Southern train derailed near Springfield, Ohio on March 4, which resulted in 28 train cars crashing, according to the New York Times. Officials said that there were no dangerous materials carried by the train.
In a press release on March 6, Norfolk Southern laid out a six-point safety plan to "immediately enhance the safety of its operations." The company said the initiatives were based on the initial findings of the NTSB investigation.
"Reading the NTSB report makes it clear that meaningful safety improvements require a comprehensive industry effort that brings together railcar and tank car manufacturers, railcar owners and lessors and the railroad companies," said Norfolk Southern President and CEO Alan H. Shaw. "We are eager to help drive that effort and we are not waiting to take action."

US considers chicken vaccinations
Amid a rise in bird flu cases in chickens, the U.S. government is considering vaccinating chickens to prevent further spread, according to the New York Times.
The virus, called H5N1, poses very little threat to humans, reported the New York Times. According to the World Health Organization, it is difficult for humans to catch the virus and transmission between humans is unlikely. For humans who do become infected with the virus, the WHO reports a 60% mortality rate. 
"My own opinion is under the present circumstances, we should be vaccinating the poultry population of the United States against H5N1 — absolutely," said Robert G. Webster, an expert in avian influenza to the New York Times. 
According to The Washington Post, the disease has killed upwards of 58 million birds in the U.S. over the last year. A large majority of these casualties have been mass slaughters in an attempt to stop the spread, a method that has proven ineffective.
The outbreak of the disease among birds has led to a supply shortage of eggs, causing a 70% price increase across the country from January 2022 to January 2023.
The vaccination, which has been widely used in 30 countries since 2003, has proven successful in limiting infections of the virus. The New York Times reported that the federal Agriculture Department has begun testing poultry vaccines. 
Leave a Comment
About the Writers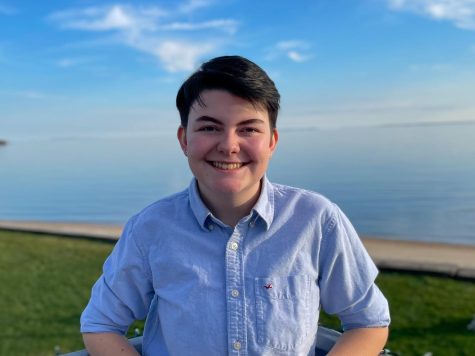 Leo Woods, Photo Editor | he/him
Leo is a senior political science major with a minor in journalism from Clinton, Conn. He has photographed political events, protests, performing arts groups and documented Boston Pride for the People for the History Project. Outside of Suffolk, Leo is an avid Dungeons and Dragons player and podcast listener. After graduation, he plans on attending law school and working in politics.
Follow Leo on Twitter @leowoods108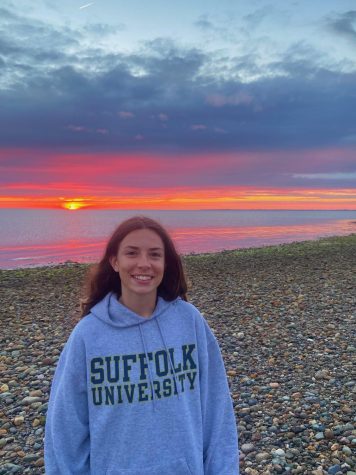 Sarah Roberts, Asst. News Editor | she/her
Sarah is a senior from Taunton, Mass. majoring in print and web journalism. She's on the cross country and indoor/outdoor track and field teams. When she's not running along the Charles or doing laps on the track in Eastie, you will probably find her in a coffee shop. Sarah is a coffee connoisseur and enjoys trying new coffee places frequently. In her free time if she isn't reading, she's watching some true crime shows or rewatching Gilmore Girls for the hundredth time. After college, she hopes to work in investigative journalism.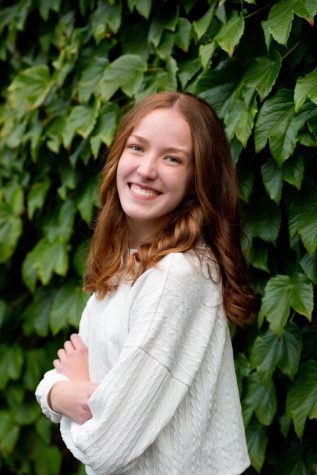 Maren Halpin, Asst. News Editor | she/her
Maren is a sophomore print/web journalism major from Milford, Massachusetts. In addition to writing for The Journal, Maren is a member of Suffolk's track and field team. In her free time, she loves to go to her favorite coffee shops, listen to Noah Kahan and Taylor Swift on repeat, explore the city and spend time with family and friends.