'Everything Everywhere All at Once' dominates the 29th SAG Awards
The global movie sensation "Everything Everywhere All at Once" with Michelle Yeoh, Ke Huy Quan and Jamie Lee Curtis won four major categories at the Screen Actors Guild on Feb. 26. Their accolades were a tremendous and lovely surprise to the public during Netflix's official livestream of the event and represented a sign of change in Hollywood.  
The SAG Awards, in cinematography, is the last ceremony before the Oscars and is famous for supposedly predicting the Academy Award winners. Most SAG Awards winners also won Oscars throughout the years. 
"Everything Everywhere All at Once" has been in the spotlight and praised by critics and the audience not only due to its different approach to the "multiverse theory," but also its Asian representation. The film is one of the strongest contestants at the Oscars and was nominated for 11 categories, including Best Picture, Best Actress and Best Supporting Actor. 
That is one of the reasons why Yeoh's movie has received so much attention these past couple of weeks. Still, "Everything Everywhere All at Once"'s wins at the Awards mean much more than the hope for future coveted statuettes; the prizes symbolize representation in Hollywood. 
Quan, who won the Best Supporting Actor award, was very emotional in his acceptance speech. 
"I was told that if I were to win tonight, I would become the very first Asian actor to win in this category," said Quan. He thanked everyone who contributed to the rise of diversity in the cinematographical field. 
"To all those at home who are watching, who are struggling and waiting to be seen, please keep on going. Because the spotlight will one day find you," Quan said.
Moments later, little did he know that his co-star Michelle Yeoh would become the first Asian actress to win in the category of Best Female Actor in a Leading Role. 
Yeoh was also utterly emotional in her acceptance speech. She took a while to compose herself and then said, "I think if I speak, my heart will explode." 
"This is not just for me. This is for every little girl that looks like me. We want to be seen. We want to be heard. And tonight, you have shown us that it is possible," Yeoh said.
The movie also received the last and more significant award of the night: Best Ensemble in a Motion Picture. Upon accepting the award, 94-year-old actor James Hong, who received a standing ovation, also made some remarks about the milestone of diversity in Hollywood. 
"Back in the days… the producer said 'the Asians are not good enough, and they are not box office.' But look at us now," said Hong. The actor also teased his co-star, the American actress Jamie Lee Curtis, who won Best Supporting Actress. 
"We are not all Chinese… but 'Lee' is a good Chinese name," said Hong while pointing to Curtis. 
Representation, diversity and change were the major topics at the event, and the crowd was so proud. This year's SAG Awards and this powerful movie are going down in history. Let's wait and see what the future will bring to this cast as they take their final bow at the 95th Academy Awards on March 12. 
Follow Elise on Twitter @elisefacoelho
Leave a Comment
About the Contributor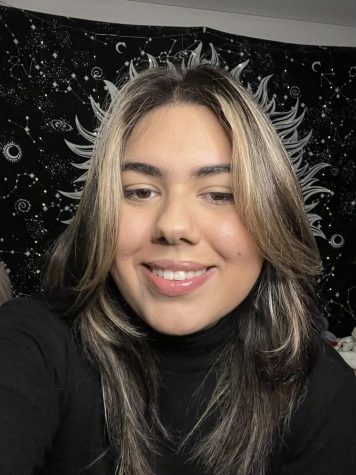 Elise Coelho, Staff Writer | she/her
Elise is a freshman from São Paulo, Brazil. She is majoring in print/web journalism with a minor in philosophy. She loves to read, write, listen to music and take pictures. Her favorite band is Maneskin, and most of the time you can find her at a theater watching a musical. After graduation she plans to become an author and share her stories with the world.