Emma Mackey shines as Emily Brontë in new movie
"Emily" is a loosely biographical period drama about novelist and poet Emily Brontë,  who is remembered most for her one and only novel "Wuthering Heights." Netflix's "Sex Education" star Mackey perfectly portrays the sarcastic and reckless Brontë in a movie with a fantastic premise but almost fails to deliver it. 
While not much is known aboutBrontë due to her reclusive nature and premature death at the age of 30, the film speculates that she was a misfit woman. Much of what is known about Brontë comes from the writings of her older sister, Charlotte Brontë, who is most well known for her novel"Jane Eyre." 
The movie alleges she was meant to be a school teacher to please her clergyman father, but fate had other plans.
Brontë's natural imagination and creation of stories led her to want to be a writer. In the film, she wrote poems and shared them with her father's curate, William Weightman. While there is no evidence to account for their true relationship, the pair had a turbulent and forbidden relationship in the film, and with him,  Brontë discovered that love also meant feeling pain.
Netflix's "Black Mirror: Bandersnatch" star Fionn Whitehead portrays Branwell, the brother of the rebellious Brontë. Branwell had art running through his veins. They shared a secret motto: "Freedom in thought." It is interesting to see how their bond is revealed throughout the movie and how Emily blindly trusts him — something she doesn't do with her sisters. 
Whitehead and Mackey make a powerful duo. They could both capture the essence of their characters and work together as the rebels of the Brontë family. Whitehead's role is totally different from his part in "Bandersnatch," and it was great to see him act as a free spirit young man. 
Actress Frances O'Connor made her directorial debut by creating an atmosphere focused on nature. The rain, trees, and the cabin are key elements that represent Brontë's urge to be free and to love. 
However, the pace of the movie is extremely slow. It was probably O'Connor's intention to slow it down to illustrate how life was in the countryside in the 19th century, but she might have crossed the line. 
Nanu Segal's cinematography was not on point either. Sudden cuts and meaningless images downgraded the quality of the movie. The music score was very similar to other cliché period dramas, with a great deal of instrumental and classical. 
Despite the poorly planned movie, Mackey was phenomenal as Emily. The actress portrayed Brontë's emotions with such passion that the viewers could feel it through a silver screen. 
The supporting cast's acting was also top-tier and the story is compelling. Yet, the movie has no thrilling climax points that make the audience pay full attention. It already starts at the end, and it ends suddenly. The film is fairly good for a directorial debut, but it is far from being considered a great, Oscar-worthy bio-picture. 
Watching "Emily" is like reading a period book that, after finishing, will be forgotten. If the viewers want to know more about Brontë through newbie director O'Connor's lens, this movie is a good call, especially for rainy days. 
"Emily" is now in theaters.

Follow Elise on Twitter @elisefacoelho
Leave a Comment
About the Contributor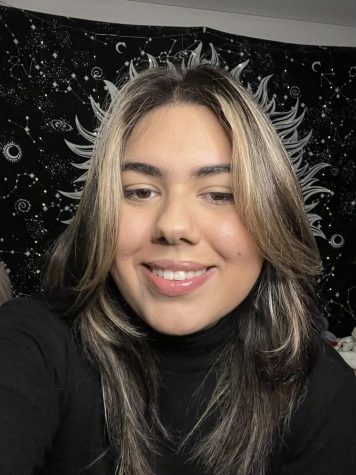 Elise Coelho, Staff Writer | she/her
Elise is a sophomore from São Paulo, Brazil. She is majoring in philosophy with a minor in journalism. She loves to read, write, listen to music and take pictures. Her favorite band is Maneskin, and most of the time you can find her at a theater watching a musical. After graduation she plans to become an author and share her stories with the world.