Donald Trump announces 2024 presidential bid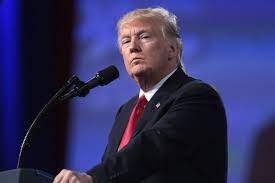 Former President Donald Trump has officially announced a 2024 bid to return to the White House, prompting strong responses from both supporters and opponents.
Trump's long-expected reelection campaign was launched on Nov. 15. This will be his third presidential campaign.
"In order to make America great and glorious again, I am tonight announcing my candidacy for president of the United States," Trump said in a speech in the ballroom at his Mar-a-lago Resort in Florida. "We will again put America first."
Trump's announcement comes hot on the tail of the midterm elections in which the GOP did not do as well as expected. The Associated Press reports that those close to Trump told him to hold off his announcement as a result.
"I'll be advising him that he move his announcement until after the Georgia runoff," said former Trump adviser Jason Miller. "Georgia needs to be the focus of every Republican in the country right now."
Running for president after leaving the Oval Office has been historically difficult. According to Politico, only a few presidents have tried running again after being voted out of the West Wing. Only one, President Grover Clevelend, successfully landed himself back in the position in 1893 after losing in 1888.
Trump is in uncharted waters as the only president to be impeached twice and the only whose supporters stormed the U.S. Capitol after his 2020 election loss. He is also facing a number of criminal investigations, according to the Associated Press.
Many in Trump's own party have voiced their criticisms of his announcement. The Associated Press reported Utah Senator Mitt Romney compared Trump to a losing pitcher.
"He's been on the mound and lost three straight games. If we want to start winning, we need someone else on the mound. And we've got a very strong bench that can come out," Romney said. "I know, there's some fans that love him. Just like, you know, an aging pitcher, there are always fans that want to keep them there forever. But if you keep losing games, try to put some new players on the field."
Massachusetts Governor Charlie Baker, a Republican, discussed his views on Trump in an interview with CNN's Jake Tapper, parts of which aired on Nov. 14
"We need, as a party, to move past President Trump and to move on to an agenda that represents the voices of all those in the party and the people of the country," Baker said in the interview. "Because that's clearly one of the messages that was sent to us by battleground-state voters, and independents in particular, that they don't want to play this game through the voice of one person or one personality."
Against the advice of these Republicans, Trump said he is running for the people of this country.
"This won't be my campaign, this will be our campaign," he said.
Leave a Comment
About the Contributor
William Woodring, News Editor | he/him
Will is a senior majoring in public relations. He is originally from Medway, Ma. In his free time, he enjoys listening to music, writing, reading, and running. He is interested in political journalism and hopes to go into politics after graduating.

Follow Will on Twitter @woodringwill