CHW clinic offers COVID booster shots to students
Suffolk University Counseling, Health & Wellness hosted a two-day COVID-19 vaccine booster clinic on Oct. 25 and Oct. 26.
In an email sent to students on Oct. 14, CHW announced that bivalent COVID booster shots, which are new and provide protection against Omicron variants, would be available free of charge. 
"The bivalent COVID booster shot is different from any of the previous boosters because it protects against the original COVID-19 virus and the Omicron variants BA.4 and BA.5," said Tracy Allen, assistant director of medical operations. "Previous boosters are referred to as monovalent because they were designed to protect against the original COVID-19 virus and are no longer offered."
Julianne Lenehan, the COVID logistics manager at CHW, said CHW was able to provide students with vaccines "thanks to a statewide initiative that provides Massachusetts colleges with resources and support necessary to host an on-campus booster clinic, in anticipation of student travel around the Thanksgiving holiday."
"The intention is to administer the new booster shot to as many college students as possible before the Thanksgiving break in an effort to blunt the possibility of a post-holiday surge in cases," said Lenehan.
As of Sept. 1, the CDC is recommending that everyone 12 years and older get the bivalent booster so long as it has been at least 2 months since their last COVID-19 vaccine dose. The Moderna booster is approved for those who are 18 and older.
Suffolk requires students to be fully vaccinated under CDC guidelines, which includes the first two primary doses and an additional booster dose.
Students were able to make appointments for the booster clinic, but CHW noted in their email that walk-ins will be accepted on a first-come, first-served basis. Students must bring a Suffolk ID and COVID-19 vaccine card to the clinic.
On the first day of the clinic, students who attended said they were pleased with how easy the process was.
"It was really convenient because we're [on campus] all the time," said senior Lella Woolery. "It was really easy to register and come in, and it was quick. They even took me early."
Some thought that CHW's booster clinic made it more accessible for students to get vaccinated, as they said it can be hard to get a booster appointment or find time as a student to go to one.
"I haven't been able to get a booster because so many places are fully booked but here it was super easy, it only took 10 minutes," said junior Emily Borges.  
With winter and flu season around the corner, Lenehan noted it was the perfect time of year to get boosted, should a student choose. 
"[It's] an excellent opportunity to boost immunity during a time of year when we often see a surge in illness," Lenehan said.
Students are invited to attend the booster clinic even if they are unsure if they should receive one.
"We want students to feel encouraged and supported as they make the decisions that are right for them and always invite questions, so students should feel welcome to attend the clinic simply to inquire further about the bivalent booster shot. There will be experts and clinicians available for support," Lenehan said.
The final day for students to receive free bivalent COVID-19 boosters from CHW is Oct. 26 from 2-8 p.m. in the Keches Room in Sargent Hall.
Follow Grace on Twitter @GraceM123456.
Leave a Comment
About the Contributor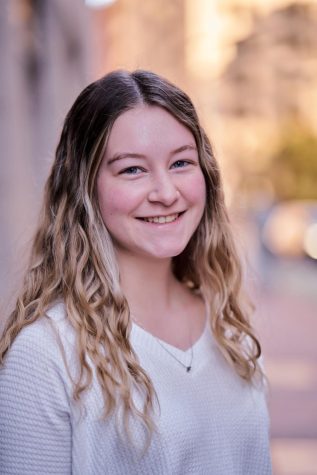 Grace MacDonald, Managing Editor | she/her
Grace is a senior from Seekonk, Massachusetts, majoring in public relations. Besides having a passion for writing, she also enjoys listening to Taylor Swift, watching movies, and exploring the city. She also loves to travel. After graduating, she plans to pursue a graduate degree in integrated marketing communication.
Follow Grace on Twitter
@GraceM123456