Cross country shines at Suffolk Invite, captures Battle for Boston Common title
Thousands gathered at Franklin Park for Suffolk University's annual Cross Country Invitational on Oct. 15. 
22 teams from across New England and beyond competed in the event, which began with the women's 6k, followed by the men's 8k. 
Suffolk had impressive performances across the board, with the women's team coming in fifth place overall with a score of 177 and the men's team coming in third with a score of 115. 
Boston University inched out ahead of Suffolk with a first-place score of 17 for the men's team and a second-place score of 56 for the women's. Northeastern University left with the first-place title for the women's team with a score of 23.
Both the men's and women's teams crushed Emerson in the "Battle for the Boston Common," a traditional dual meet of the event. Both teams' scores are derived from their overall performance in the larger races. The women's team defeated the Lions 19-41, while the men delivered a 16-47 blow to Emerson.
Tim Barry, a junior and captain of the men's team, earned the Commonwealth Coast Conference's title of Runner of the Week for his performance in the event. Barry finished eighth in the men's 8k with a time of 26:40, a personal best. 
Barry said he was impressed with the team's overall performance. He noted that although some members of the team had been under the weather prior to the competition, they all pushed through to lead Suffolk to a solid finish.  Barry was also optimistic about the upcoming CCC championships, set to take place on Oct. 29 in Biddeford, Maine.
"Give us two more hard weeks and we're guaranteed to win the conference," Barry said.
Fellow captain and senior Justin Turner re-enforced Suffolk's successes in the races and shared Barry's optimism about the upcoming championship.
"We definitely showed out today … despite having no races in the last two weeks, we weren't left behind," Turner said. 
Ellie Davis, a 2022 graduate, finished eighth overall in the women's 6k with a time of 23:56, with graduate student-athlete Skyler Goodman following close behind in eleventh with a time of 24:03.
The Rams will have a week off to prepare for conference championships and afterward will head to Bowdoin College for the NCAA East Regionals on Nov. 12. 
Follow Leo on Twitter @leowoods108
Leave a Comment
About the Contributor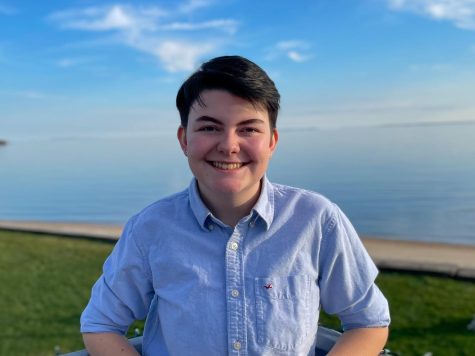 Leo Woods, Photo Editor | he/him
Leo is a senior political science major with a minor in journalism from Clinton, Conn. He has photographed political events, protests, performing arts groups and documented Boston Pride for the People for the History Project. Outside of Suffolk, Leo is an avid Dungeons and Dragons player and podcast listener. After graduation, he plans on attending law school and working in politics.
Follow Leo on Twitter @leowoods108