Suffolk University freshman Melissa Sapini does it all, from modeling and acting to studying broadcast journalism. Sapini has even tried her hand at pageantry and placed as the Miss Massachusetts Teen USA 2022 first runner-up in March. 
On a typical afternoon in Sapini's hometown of North Attleboro, Mass., she and her mother were cleaning the house when a channel on TV happened to be broadcasting the Miss Universe pageant. 
"We just stopped cleaning, and we were just watching it, and we were super mesmerized. By the end of the show, I just remember telling my mom, 'I can do that. I want to do that…'" said Sapini. "I definitely had a stereotype against pageants before I even watched it. I thought it was just a bunch of pretty girls just doing nonsense, but it's a lot deeper than that." 
Sapini went into her first Miss Massachusetts Teen USA pageant in 2020 with the confidence she gained from modeling, and placed in the top 15. 
Two years later, Sapini returned to the Miss Massachusetts Teen USA pageant with more preparation and experience behind her, and a better reason for why she competes.
"My why was my grandmother… at 7 years old, I was able to teach her how to read and write and it's just something that's important to me," Sapini said. "I know with a platform like Miss Massachusetts Teen USA I'd be able to advocate for high quality and diverse reading materials within Boston elementary schools."
Sapini's grandmother, Christina Duguaran, 90, grew up in Haiti when education wasn't a priority. Duguaran was taken out of school at a very young age to work at flea markets to help provide for her family, which included her 11.
Duguaran became a widow during her pregnancy with Sapini's mother and because of this, she was never able to return to school. Duguaran had nine children.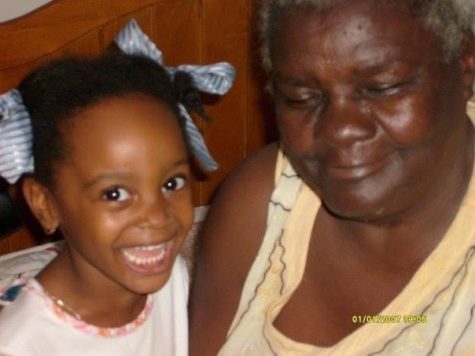 In order to prepare for her second pageant, Sapini hired a pageant coach. She spent many weekends going to her hometown, then driving to northern Massachusetts to train. She was coached on everything from pageant walking to public speaking.
The preparation paid off. She won first runner-up at the ceremony. 
"I just had a lot more confidence [the second time competing]. I knew so many more people, whether it came to contestants or people of the organization…it was just all about my mindset, it was different. And the people I decided to surround myself with as well," said Sapini
Sapini's time in the spotlight began at the age of six when she was inspired by her mother's modeling career in Haiti. 
"I just ended up sticking with it because I enjoyed it so much," Sapini said. 
Her favorite shoot was with LIT Boutique, based in Boston, where she is still one of their seasonal models.
"I swear whenever I go I always have the best time ever," said Sapini. "They're super cool and I love all the content they put out." 
In addition to modeling and participating in pageants, Sapini was just 13 years old when she landed her first acting role in the season four premiere of "Evil Lives Here," a true-crime show on the Investigation Discovery channel. 
"Being able to travel and go to a different state for the set, and just like all the things that go into it whether it's costumes and wardrobe, and meeting the other actors. It was such a cool experience. Being able to see myself on TV randomly, or during a commercial break was insane," said Sapini. 
Sapini has signed with two agencies since her career first started, Dynasty Models, based in Boston and Future Faces NYC, based in New York.
Sapini's experience in acting and modeling earned her a role in the latest Six Flags commercial. The commercial was the perfect mix of acting and modeling for Sapini's taste. Her agency, Dynasty Models, booked her for the audition last October. 
Filming took place at Six Flags New England in Agawam, Mass. and Sapini is now one of the new faces of the Six Flags franchise. The advertisement can be found across Six Flags' social media pages.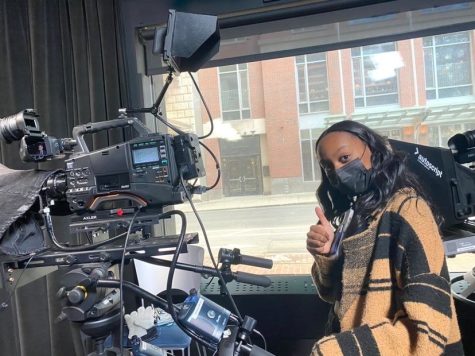 With all of these auditions, modeling gigs and filming days, Sapini had a lot on her plate at the time and didn't know how to balance it all with other obligations. Only a month into her freshman year, she was already faced with a difficult decision. 
"At the time [of the commercial filming] I was on the cross country team. I had so much going on and I didn't know if I was even going to do this because I was going to miss my first meet of the season," said Sapini. 
This was a wake-up call for Sapini: she realized right away that this wouldn't be the last time she would miss a race for a job. Sapini later made the decision to leave the team to further her acting and modeling careers.
However, school still remains important to Sapini. She knew she had a passion for broadcast journalism at a very young age just from watching entertainment news channels. By her junior year of high school, Sapini knew not only her major, but that she wanted to study at Suffolk. 
Sapini does a lot of work for Suffolk's TV studio, Studio 73. She knew she would love the environment of the studio before she was even accepted to Suffolk and she was not disappointed upon arrival.
"I've created such a great bond with Patrick and Jerry, who are the managers of the studio, and they're always there to lift me up and support any crazy idea I have," said Sapini. 
Her favorite project for the studio was attending and reporting for Chantel Mayo's Third Annual Galentine's Celebration this past February.
"I felt like for the first time I was doing my future career… I just didn't feel like it was going to happen my freshman year," said Sapini. "Every job I do in the industry just furthermore solidifies the idea and that goal of wanting to be a broadcaster."
Follow Sarah on Twitter @saraherobs.