Greatest thing since rebels blew up Death Star
Article By: Derek Anderson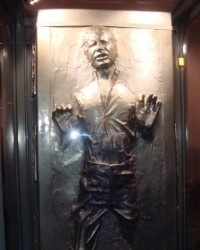 In a galaxy far far away, a revolutionary series of movies hit the world hard, bringing a fantasy of aliens, lightsabers, force powers and strange planets to the masses. Last Wednesday in Providence, an orchestral performance of John Williams' compositions, which backed the Star Wars saga, captivated audience members, pulling them out of the ordinary world and into outer space. The Dunkin' Donuts Center became a temporary home to one of the best intergalactic stories ever told."
The concert started off with a bang as the orchestra, conducted by Dirk Brosse, played the main theme from the Star Wars films. Afterwards, the host and narrator, Anthony Daniels (better known for his role as C-3PO), told the compacted story of Star Wars. The way the story was told was magnificent, condensed to fit the approximate two hour show perfectly.
An individual could know nothing about Star Wars and still enjoy the music as well as grasp the concept of the story easily.
The set up of the performance was key to the show's progress. A huge screen played behind the orchestra while they performed Williams' scores. On the screen, visual mash ups of scenes from the six movies in the series were put together and shown to aide the music.
This gave the audience something else to watch besides the orchestra. Not only were there scenes from the movies accompanied by lasers, smoke, and fire, but they were shown on the biggest LED screen ever taken on a tour, according to the Star Wars in Concert website.
The show was broken up into small segments with each song pertaining to a theme in the Star Wars saga. Daniels introduced a theme in between each of Williams' scores that were performed, telling the story from The Phantom Menace (20th Century Fox, 1999) to The Return of the Jedi (20th Century Fox, 1983). Themes like the Sith to profiles on droids and Yoda were covered with their own special musical accompaniment. The main ideas of the series was covered well, with both serious and comedic tones.
The music played by the orchestra can only be described as perfect. It was an incredible sight to see every musician perform with such ease and precision. The orchestra made their performance look like it was something of extreme simplicity, as if any person could do what they did. Most the time they sounded so complete and together that it felt as though the music was pre-recorded.
The concert also was accompanied by a Star Wars exhibit that followed the tour. Inside the small exhibit were props, and full-on costumes straight from George Lucas's Skywalker Ranch. Some of the pieces hadn't seen the light of day for over 30 years, according to the Star Wars in Concert website. Among the suits was one of the Darth Vader suits, as well as a C-3PO droid. To work alongside the exhibit, people dressed in some of the Star Wars costumes, such as Stormtroopers and Chewbacca, and wandered the halls, taking pictures with fans.
The experience was a new chapter in the long journey Star Wars has had in pop culture. The music and atmosphere were amazing and should be experienced by anyone who loves musical talent and of course, the amazing Star Wars saga.
Leave a Comment