'Memoria' begins exclusive premiere at Coolidge Corner Theatre
A woman is awoken, by a loud boom from the earth, before she rises from her bed. It is nearly dawn, a blue light from the windows barely illuminating the frame. The camera moves suspiciously around the dark apartment and then cuts to a group of cars that inexplicably begin to sound their security alarms.
With these opening images and abrasive sounds, Thai director Apichatpong Weerasethakul opens his 10th feature film "Memoria," and prepares the audience for the hypnotic odyssey ahead.
The film's protagonist Jessica (Tilda Swinton) is a Scottish woman running a flower business in Medellín, Colombia. 
Jessica goes about her normal day-to-day life, visiting her sister, Karen (Agnes Brekke) in the hospital and studying plants and insects for her job. On a subsequent visit to the hospital, Jessica learns about an ongoing archaeological dig that has produced ancient human remains involved in a ceremonial sacrifice.
Despite her best efforts at normalcy, the inexplicable booming sound continues to fascinate Jessica, who seeks out a sound engineer named Hernán (Juan Pablo Urrego) to help her recreate the sound. 
Jessica begins to question her sanity, as she continues hearing the sound while others seem not to notice. Rapid changes begin, and Jessica's confusion grows leading her on an expedition into the countryside to find the source of the sound herself.
The film's slow, hypnotic pace blurs a clear understanding of the plot of "Memoria." This leaves viewers searching for meaning long after the credits finish rolling.
The film is commanded by Swinton, who appears in nearly every single scene. Her performance is reserved, but sprinkled with moments of genuine emotional release.
Swinton is particularly convincing as an expatriate – someone who resides in a foreign country –  who is between full assimilation of the country she resides in.
Most of the film's other performances are brief and simply nudge the narrative along, but Swinton's match comes from actor Elkin Díaz, who plays a mysterious fish scaler. Diaz's scenes with Swinton display emotional and thematic depth, but with professional subtlety.
Director Weerasethakul is perhaps best known for his masterpiece, "Uncle Boonmee Who Can Recall His Past Lives," which won him the Palme d'Or at the Cannes Film Festival in 2010 and boosted his notoriety in modern world cinema. 
"Memoria" shares several similarities with "Uncle Boonmee" and Weerasethakul's broader stylistic tendencies – including themes of life, death and reincarnation, aesthetics of cinematography and sound design. 
Like "Uncle Boonmee," "Memoria" can be defined as an example of slow cinema. These are films that favor long shots, or scenes entirely composed of a single shot, and disregard the common practice of rapid cutting. 
This draws the audience into the film by displaying the "real time" experienced by the characters.
"Memoria" uses a variety of wide-angle shots. The compositions – especially for interiors – utilize contrast between light and darkness, and quadrilateral shapes and lines to heighten the modern setting of the film. 
Such framing dissipates as the film's narrative moves towards the past when Jessica goes into the countryside.
Similar to "Uncle Boonmee," the sound design also relies heavily on heightened sound scapes, especially those of nature, to layer scenes.
Thematically, the film is fascinated with reincarnation, memory, Eastern philosophy, magical realism and archaeology.
The film is thematically rich and visually stunning, and despite the slow pacing it keeps viewers engaged throughout. 
Perhaps one of the most unconventional components of the film is its release. "Memoria" is set to be on a continuous exhibition, showing one screen at a time continuously traveling. 
In Boston, the film is showing exclusively at the Coolidge Corner Theatre through April 28. 
Beth Gilligan, the Deputy Director of the theatre, commented on the Coolidge's role in bringing the film to Boston.
"The Coolidge is thrilled to be hosting the Boston premiere of Apichatpong Weerasethakul's 'Memoria'," said Gilligan. "It is a stunning, visionary work that deserves to be seen on the big screen. We pride ourselves on our top-notch projection, which has put us on the map nationally, and hope that people will experience this mesmerizing film the way it was meant to be seen: on the big screen."
With "Memoria," writer and director Weerasethakul has created another meditation on the human experience. Weerasethakul's film may not deliver definitive answers, but it invites reflective excavation on the past, the future and the unknown of humanity.
Follow Alec on Twitter @Alec_Maskell.
Leave a Comment
About the Writer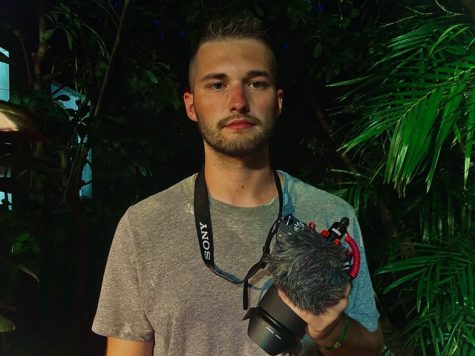 Alec Maskell, Staff Writer | he/him
Alec is a senior media & film major and creative writing minor from Old Lyme, Connecticut. Alec joined The Journal in Fall of 2021, and has focused his writing on film reviews. Alec is intensely passionate about everything relating to film, and he is also a musician, as a guitarist and alto-saxophonist. Alec's career goals are to become a screenwriter/director, and to continue working in the field of journalism.