It's all about soul, Soulfully Versed hosts PAO groups
On Wednesday evening, Soulfully Versed, one of Suffolk University's all-gender a capella groups, hosted "Soul Night," a showcase of the group's work over the course of the year. It was their first performance since 2019.
The event featured both group and solo performances from members of Soulfully Versed, as well as performances by Tip Tap Toe, Fusion Dhamaka and Rampage Show Choir.
Soulfully Versed is composed of Suffolk students: President Cheryl Akins, Vice President Haley Solomito, Treasurer Amethyst Kettrell, Secretary Laurel Frisbee, PR Manager Akhila John, sophomore Kassidy Planas and freshman Linh Dinh. 
The group opened with a performance of "Valerie," originally performed by Amy Winehouse. Each member had their moment to shine during the song, and their voices perfectly complemented one another.
Akins, a junior, then delivered a gut-wrenching performance of "Someone Like You" by Adele. Her voice carried the intense emotion of the song beautifully.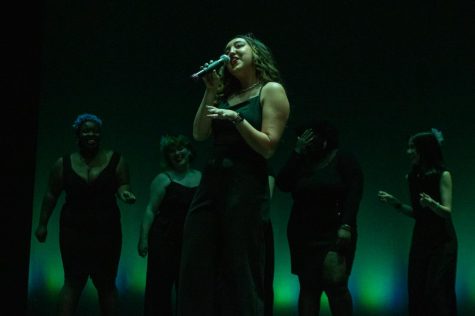 The whole of Soulfully Versed returned to the stage to perform "lovely" by Billie Eilish and Khalid and later "Somebody That I Used to Know" by Gotye, with Planas and Solomito as soloists. 
It was clear during each song that the group was enjoying every second they were on stage together, smiling and encouraging each member when they had their moment in the spotlight.
Solomito said that the group's closeness is what sets them apart and serves as their biggest strength. 
"If you're not friends with the people you're performing with, it really affects the quality of your performance," she said.
This was apparent during members' solo performances when the rest of the group sat in the audience and cheered each soloist on.
Soulfully Versed is unique in that they don't have a music director. The group arranges all of their songs themselves, spending months perfecting each note and harmony by ear. "Lovely" was their first arrangement, as well as their most time-consuming. 
Prior to the COVID-19 pandemic, Soulfully Versed had a music director and choreographer. However, after students returned to campus for the fall 2021 semester, Akins, Solomito and Kettrell decided to take the group in a different direction, one where their vision was what came to a realization on stage.
Akins said that although the group had difficulties in maintaining a consistent rehearsal schedule due to academic and work responsibilities as well as the ongoing pandemic, this show was the best she had performed as a member of Soulfully Versed.
"I'm so proud of [us]," Akins said.
Six of Soulfully Versed's seven members performed solos. Planas sang a stunning rendition of "Take a Bow" by Rhianna, Frisbee had "Grenade" by Bruno Mars and Kettrell sang "Turning Tables" by Adele.
After a short intermission, Solomito began the second act with a chill-inducing rendition of "Paris" by Grace Potter and the Nocturnals. Her powerful voice and raspy tone were perfect for the song.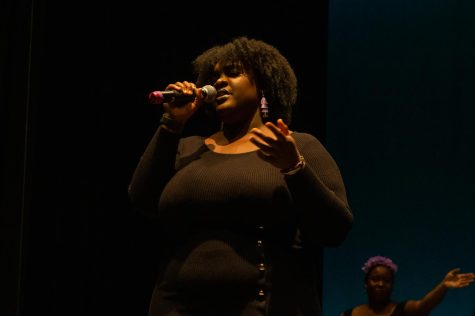 Dinh sang "Won't Say I'm In Love" from Disney's "Hercules," with the other members singing the parts of the muses. In the film, Megara sings about her past experiences with love, which resulted in her deal with Hades, the god of the dead. Although she says she won't love again, she can't resist Hercules and the muses try to make her aware of that throughout the song.
The group closed the show with "Don't Let Go (Love)" originally by En Vogue.
In a traditional acapella group, members are typically assigned a specific vocal part to always sing. However, Soulfully Versed is anything but traditional. Each member's part changes based on the song and their individual vocal abilities.
The group attributes this as another one of their strengths. 
"We do what makes us feel good, and that's what's great," Planas said. "I think the difficulty with choir music is that you're trying to fit your voice into parts, but the cool part about us is that we're not fitting into anything. We're just letting what we have out."
Soulfully Versed is looking for new members to join for the upcoming year. While there is no set date for auditions yet, they encourage anyone who is interested and has an open mind to audition. For updates on future performances and auditions, follow Soulfully Versed on Instagram @soulfully_versed.
Follow Leo on Twitter @leowoods108.
Leave a Comment
About the Contributor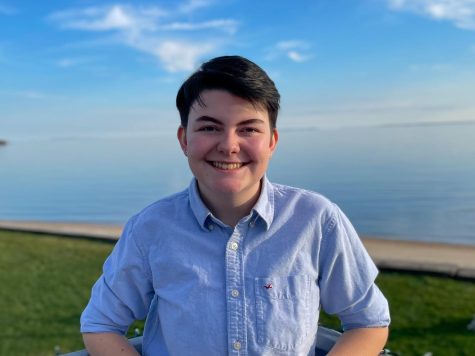 Leo Woods, Photo Editor | he/him
Leo is a junior political science major with a minor in journalism from Clinton, Conn. When he isn't writing for The Journal, you can find him walking around Boston with his camera taking pictures of the city. He is passionate about politics, Mexican food, and Dungeons and Dragons. In the future, he plans on attending law school and permanently moving to Boston.
Follow Leo on Twitter @leowoods108