Next steps for sustainability at Suffolk
Sustainability at Suffolk University has had a second look thanks in part to one of the university's Student Technical Employment Program internships.
New projects are in the works concerning composting and reducing on-campus waste, as well as increasing waste education throughout the university. Through STEP, Suffolk senior Logan Casey has been a part of the new sustainability programs coming to campus.
According to Casey, Suffolk University acts in accordance with Building Emissions Reduction and Disclosure Ordinance (BERDO) , which requires almost all city buildings to annually report energy and water data to the city in an effort to regulate and reduce emissions significantly by 2050.
"Suffolk annually reports all of its energy usage, all of the water we use, gas as well as waste…For 2021 we diverted 33% of our waste from the landfills," Casey said.
While that number is on par with other campuses in the city such as Boston University, Casey and others within the department want that number to increase significantly.
Assistant Vice President of Facilities, Ashley Lindsey, described some of the changes students can expect on campus to increase Suffolk's sustainability.
"We are always striving to reduce our carbon footprint through ongoing initiatives, such as LED lighting projects, increasing waste diversion and assessing renewable energy opportunities," Lindsey said.
Lindsey said other projects are in the works to reduce overall campus waste.
"In addition, the Sustainability Committee and our STEP Intern [Casey] have targeted an Earth Day Fair collaboration with the student Environmental Club, new trash/recycling/composting signage, and assessing some opportunities for the university including a living wall and increasing the number of bottle filling stations around campus," Lindsey said.
Casey said he has been interested in improving the waste procedures on campus for quite some time.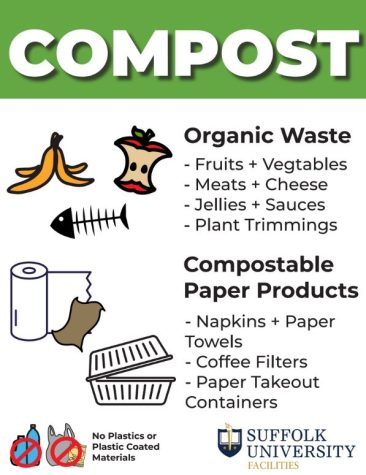 "I've been interested in composting since I got to Suffolk so I have been working on getting that back on track. Composting is our pilot [program] and at the same time we are working on waste and recycling," Casey said.
Lindsey highlighted that composting is not entirely new to Suffolk.
"For years, Suffolk has composted food scraps through Dining Services in the kitchen. This has diverted hundreds of tons of food waste from the landfill to be composted by our waste hauler. This year, with Logan's leadership, we are designing a pilot program in Smith Hall to expand composting to the student population in the cafeteria seating areas," Lindsey said.
If the program is successful, Lindsey said she will ensure the implementation of similar programs in other dining halls across campus.
Casey emphasized that an important part of reducing campus waste is ensuring the student body and staff is educated on the new procedures. Casey said the current signage and advertising for waste is inconsistent in differing buildings, thus creating the need for an update.
Casey gave some insight into this decision.
"First we are going to focus on getting adequate signage out because one of the big problems is we have some older composting bins on campus that are not even used, and they have the wrong signage on them, so accurate signage first and foremost… but we also are going to try and do some trainings as well too,"
Casey went on to describe an upcoming Earth Day fair that will take place on April 19. The event will promote the new signage and educate students on what waste goes into recycling bins, compost or trash.
Casey said the goal is to make waste procedures easily accessible for students and staff in order to increase the number of people participating.
"We are trying to make it more understandable for students and show that we are actually focused on recycling and that recycling does happen on campus as some people may say it doesn't," Casey said.
Casey and others involved in sustainability at Suffolk are hoping that new educational efforts and more accurate information will help in the efforts to make the university more sustainable.
"The signage update will hopefully play a good role in the amount of waste we are able to divert from those landfills. From the research I have done, the more accurate and specific you can get about what actually goes in each bin, the more people are going to be enticed to separate out their waste," Casey said.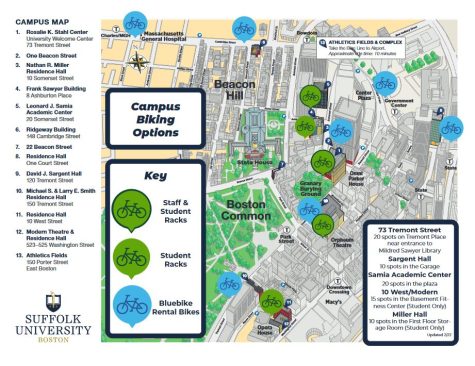 Those working on sustainability are trying to get the word out there and make sure it reaches a wide variety of those on Suffolk's campus.
"One of the big factors in this whole recycling program is reduce, reuse, recycle and a lot of people see the reuse and recycle but a lot of people don't see that reduction in the first place," Casey said.
He explained that students can help by properly disposing of waste and attempting to buy more sustainable products to begin with, including hard plastics, paper products and avoiding products such as green plastics.
"By building relationships with key staff and students, the message can be spread about the initiative through many different avenues so that students are aware of the changes that are happening no matter where they go for Suffolk news," Lindsey said.
Along with reducing waste, STEP is currently working to increase bike racks on campus.
"We are working on new bike racks… currently in Miller Residence Hall and 10 West Modern we have bike racks that students can put their bikes up in. The [residence halls] who do not have bike racks are currently One Court and Smith…" Casey said.
The Journal has previously reported on community concerns over Suffolk's sustainability practices; a partial motivator for the establishment of the Suffolk Sustainability Committee. Past issues focused on recycling policies and an apparent lapse in the historical award-winning success of the university in waste education.
Going forward, Lindsey explained that sustainability is a part of the Suffolk 2025 plan, including hiring a Sustainability Manager position. As Casey is graduating this year, the intern position is in need to be filled for the summer and Fall 2022. Those interested in this, or other internship positions, can apply on the STEP website.
"The great thing about a college campus is the tremendous energy and passion that the student body has for increasing sustainability," Lindsey said. "Each year we try to increase awareness of what programs are already in place for sustainability at Suffolk and then grow those programs in the direction most important to the student body that year."
Follow Bryce on Twitter @brycereagan1
View Comments (1)
About the Contributor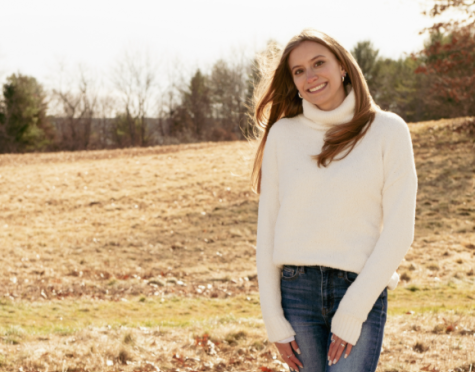 Bryce Reagan, Staff Writer | she/her
Bryce is a senior from York, Maine majoring in broadcast journalism. She loves to read and write, listen to music, explore the city, and hang out with friends. She also loves finding new and exciting things to do around Boston and back in her hometown. After graduation, she plans to try and travel as much as she can and hopefully be working in a newsroom.