'Kimi' is a COVID thriller helmed by Soderbergh and Kravitz
The combination of virtual assistant technology, COVID-19, the #MeToo movement and inspirations from Alfred Hitchcock's "Rear Window" have coalesced into "Kimi."
"Kimi" is the 32nd film by American filmmaker Steven Soderbergh, following his immersive 2021 caper, "No Sudden Move."
The film's protagonist Angela Childs (Zoë Kravitz), a trauma survivor who has severe anxiety and agoraphobia, works for a tech company on a new product called KIMI. The device is similar to Alexa or Siri, which it is likened to within the film.
Unable to leave her apartment due to severe stress, Angela spends her time working, exercising, speaking with family and coworkers online and with her neighbor and romantic partner, Terry (Bryon Bowers). 
Angela's job is to clear issues stemming from the usage of the device. While monitoring a list of KIMI interactions, she stumbles upon a potential sexual assault. 
This acts as a catalyst to pull Angela from her cocoon of safety, as she investigates the victim's other calls and attempts to relay this information. 
Things grow complicated when the company attempts to shut Angela's investigation down, leading Angela on a getaway for her life. 
The film is driven by Kravitz's magnetic performance and Soderbergh's effortlessly engaging cinematography.
Kravitz's embodiment of anxiety draws the viewer in, and is hard to turn away from. She darts across the frame continuously, and expresses the character's psyche through masterful physicality.
Soderbergh, who has been the cinematographer on all of his films since his 2000 film "Traffic," proves once again that he is one of the most unique camera operators today.
Soderbergh has operated under the pseudonym Peter Andrews because of union rules. He has adopted unconventional techniques such as large wide establishing shots, filming on iPhones and the wide-angle distorted style on "No Sudden Move."
In "Kimi," Soderbergh continues to push his style by mixing some past techniques with sleeker camera work. The camera moves quickly for most of the film, in a dance with Kravitz's blocking. He also expertly utilizes negative space to signify trauma, anxiety and power dynamics.
The most notable allusion, to Hitchcock's "Rear Window," has Soderbergh recreating the voyeuristic shots that define the classic. 
Soderbergh's career has ranged from commercial films – the "Ocean's" trilogy, "Contagion," "Magic Mike" – to less familiar, independent experiments including "Schizopolis" and "Unsane." "Kimi" lands somewhere between the two styles. 
"Kimi" is the next great psychological thriller from Soderbergh, which, paired with a captivating Kravitz, is sure to immerse modern audiences.
Follow Alec on Twitter @alec_maskell
Leave a Comment
About the Writer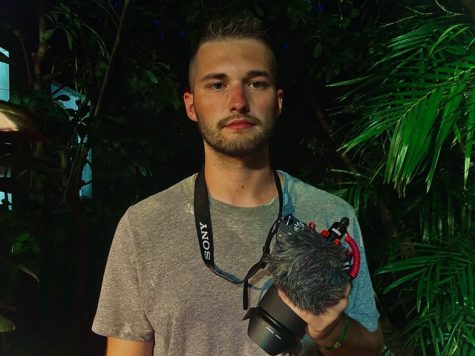 Alec Maskell, Staff Writer | he/him
Alec is a senior media & film major and creative writing minor from Old Lyme, Connecticut. Alec joined The Journal in Fall of 2021, and has focused his writing on film reviews. Alec is intensely passionate about everything relating to film, and he is also a musician, as a guitarist and alto-saxophonist. Alec's career goals are to become a screenwriter/director, and to continue working in the field of journalism.