For Black History Month, watch these influential films
February is celebrated in the U.S. as Black History Month, a time to celebrate Black history in America, and the many significant cultural moments and achievements of the Black community that happens year-round. 
One important area of recognition in Black history is the impact that it's had on film. Historically, film and television featured primarily negative and stereotypical representations of Black culture and individuals until the latter half of the 20th century, when pioneering Black artists reclaimed the narrative and deeply enriched the representations on the screen. 
Through this guide, several significant films will be looked at for their contributions, and for the importance of these films as celebrations of both Black history and their importance in film history as a whole.
"Sweet Sweetback's Baadasssss Song" (1971)
The importance of Melvin Van Peebles' 1971 landmark film cannot be understated. Not only was this film an extraordinary achievement of expert filmmaking, but it was one of the first films in the entire canon of American cinema that featured a nearly all-Black cast and crew. 
"Sweet Sweetback's" is often seen as one of the first Blaxploitation films of the '70s, a genre that had yet to be defined. 
Blaxploitation was a subgenre of independent films, aimed toward Black audiences, that characteristically featured mostly all Black casts and crews. These films frequently featured sex, drugs, violence and crime – and used excessive content to make social commentary. 
The genre has a complicated history, with some praising the Black protagonists featured in these Black-led productions, while others critique the exploitative and stereotypical aspects of some films.
Van Peebles' film follows Sweetback – played by Van Peebles himself – who is a male sex worker in Los Angeles. After a performance one evening, he is taken into the custody of two racist police officers who beat a Black Panther member in front of him. 
This prompts Sweetback to fight back against the officers, which acts as a catalyst for Sweetback to go on the run, leading him through various sub-communities of 1970s America – including Hell's Angels and the hippie movement. 
The film is heavily stylized, using music and dynamic editing to dazzling effect. The film is a truly unique frenetic explosion of early independent filmmaking, and perhaps the most celebratory aspect of the film is Van Peebles' extensive involvement. 
He directed, produced, wrote, acted and edited "Sweet Sweetback's." This film was a major inspiration for future Black directors, most notably Spike Lee and Barry Jenkins, who also were influenced by Van Peebles' approach.
"Sweet Sweetback's" can be a little tough to watch at first because its intense depictions of sex and violence. However, this film is extremely important in the history of Black film, not so much for its representations of the Black community, but for its significance in paving the way for Black artists.
"Malcolm X" (1992)
It would be nearly impossible to celebrate the history of Black cinema without celebrating Spike Lee. He is not only one of the most important Black directors of all time, but one of cinema's finest creators. 
When picking a film of his to celebrate, many come to mind: "Do the Right Thing," "Bamboozled," "BlacKkKlansman," but the director's 1992 biopic of the legendary Civil Rights leader seems the most important.
Lee's film is a strict adaptation of "The Autobiography of Malcolm X," detailing the significant figure's life in a little over three hours. The film follows Malcolm's life from his upbringing of experiencing racial violence through his days in Boston involved in petty crime, his era of prison reform, activism, pilgrimage to Mecca and eventual assassination.
Perhaps the film's centerpiece is Denzel Washington's timeless performance, one that is by far the actor's best. Washington is hypnotic as Malcolm X, and manages to accurately portray all of the many different periods and changes in the figure's lifestyle.
The film also features expert cinematography by longtime collaborator Ernest Dickerson, unique set pieces, a variety of other standout performances by Angela Bassett and Delroy Lindo and some of Lee's notable characteristics, such as an iconic use of the director's famous "double dolly shot."
With this film, Lee was celebrating Black history and in doing so created a masterpiece of American cinema. On Thursday, "Malcolm X" will be screening at the Coolidge Corner Theatre in Brookline with an introduction by the titular character's nephew himself.
"Moonlight" (2016)
When "Moonlight" came to audiences in 2016, it signified two extremely important achievements: it was one of the first commercial films to portray Black members of the LGBTQ+ community, and it was the first all-Black cast and crew to take home the Best Picture at the Oscars. 
The latter achievement is yet another example of the deep-rooted misrepresentation of Black cinema in American culture, as members of this community who celebrate and present their community in film have often received little attention or even acceptance in the mass media. 
"Moonlight" follows Chiron through three distinct periods of his life – as a youth, a teenager and an adult – while he navigates fractured fatherhood, sexuality, the impact of the crack epidemic, bullying and the conventional coming of age paradox. 
The film is a complex character study, and features masterful performances from Mahershala Ali, Naomie Harris, Janelle Monáe, André Holland and Trevante Rhodes – as well as all of the child actors. 
The film is beautifully shot, and its use of color and texture is still a major influence on subsequent productions, such as the hit TV show "Euphoria."
Barry Jenkins not only proved himself as one of cinema's most valued new directors with the film, but his screenplay for the film is one the best that modern cinema has to offer. His script is a masterclass in character development through actions and movement – lending a lot of its interpretation to the space it allows for the actors.
"Moonlight" is a major achievement of Black cinema, and it represents a specific subgroup of the Black community that has failed to see much prior representation in film.
"The Inheritance" (2020)
Of all the films on this list, "The Inheritance" may be the most unique. 
Released in 2020, director Ephraim Asili drew from his time living with various collectives, multiple areas of Black history, the African diaspora and the MOVE bombing to create a collage-like modern masterpiece of independent cinema. 
The film focuses on a collective of Black activists – who move into the founder's inherited home from his grandmother – from West Philadelphia as they strive to expand their knowledge and connection with their roots and cultural icons. 
The film is a unique blend of fictional narrative film, documentary, spoken word poetry and stage performance, music, street art, as well as various artifacts – such as books, vinyls, photos and artifacts of African and African American history.
There are also a significant number of influential movie posters that are not specific to Black cinema such as "Dawn of the Dead" and Jean-Luc Godard's "La Chinoise."
The documentary segment of the film, as well as the conceptual framing of the narrative, are derived from the MOVE collective and subsequent bombing in 1985. This event was the bombing of a similar Black collective in West Philidelphia by the Philadelphian police department; a gross example of racial injustice. 
The film is simultaneously a thorough celebration of Black identity, a reflection and reminder of racial injustice, as well as an important political statement that needs to be more widely appreciated. 
The film's focus with Black history and various Black icons is revolutionary, and lands this film on the list for being one of the greatest modern achievements of Black cinema.
Follow Alec on Twitter @alec_maskell.
Leave a Comment
About the Writer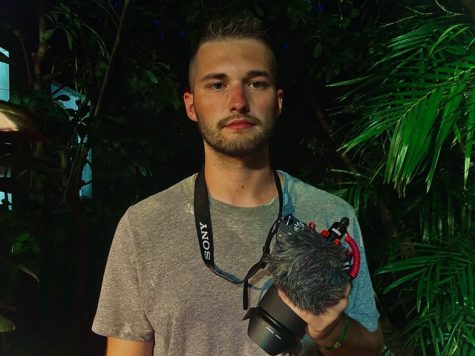 Alec Maskell, Staff Writer | he/him
Alec is a senior media & film major and creative writing minor from Old Lyme, Connecticut. Alec joined The Journal in Fall of 2021, and has focused his writing on film reviews. Alec is intensely passionate about everything relating to film, and he is also a musician, as a guitarist and alto-saxophonist. Alec's career goals are to become a screenwriter/director, and to continue working in the field of journalism.