Boston is entering the third week of its vaccine mandate for many local businesses –  one that has garnered split opinions among Suffolk University students who work in the city's service industry. 
The mandate was implemented on Jan. 15, and is the first phase of B Together, a vaccine requirement for indoor dining, entertainment venues and fitness centers for individuals ages 12 and up around the city. 
According to the mandate, individuals will be asked to show proof of at least one recent dose of any COVID-19 vaccine. This can be done by showing a physical CDC vaccine card, a digital photo of the CDC card or using the new B Together app. 
Concern over the future of businesses and individual rights has led to a backlash against Mayor Michelle Wu, including a protest outside her home in Roslindale on Jan. 14, as reported by Boston News 25.
Kyle Burzycki, a senior international relations major and server, said he was in favor of the mandate.
"I think that mandating vaccines for places like restaurants adds a positive pressure to people who are willing to get vaxxed, but haven't gotten around to it yet and now for the sake of keeping up their social life are getting their shots and making the city healthier," Burzycki said. 
The emergence of the Omicron variant has raised questions around the effectiveness of a vaccine mandate considering the variant's highly contagious nature and ability to infect those who are vaccinated. 
Katie Desmond, a junior political science major and hostess at two restaurants, said she was in favor of the mandate but wondered how effective it might be against the Omicron variant. 
"I think that this helps a bit with stopping the spread, but I'm not sure how much since you can still get COVID when you're vaccinated," Desmond said. 
Enforcement of the mandate has largely fallen upon business owners and employees. Chris Sliwa, a senior broadcast journalism major and host, expressed concerns about the responsibility of asking patrons for proof of vaccination because he did not support the mandate. 
"Once they announced the mandate, I debated if I wanted to continue being a host at work or not since I didn't agree with it and knew I wouldn't feel comfortable asking people for their vaccine cards," Sliwa said. "A couple weeks in, I'm still not fully comfortable doing that."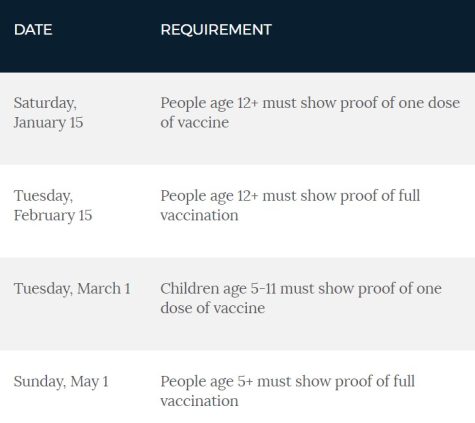 Desmond was nervous at first about the reaction customers would have when asked to show proof of vaccination, but said that so far, "people have been really nice about it and have said they're happy to show me their cards."
Wu said in a Jan. 15 statement, "The best tool we have to end the ongoing COVID surge, reduce hospitalization rates, and save lives is for everyone to get vaccinated. We are putting this measure in place to help safeguard our residents, our businesses, and our community."
According to a letter to Wu written by the Massachusetts Restaurant Association (MRA), restaurants in Boston are losing $10,000 to $15,000 a week in revenue due to the mandate, as reported by the Boston Herald. The MRA said patrons against the mandate are taking their business out of town and encouraged Wu to reconsider the mandate.
Tara Maltese, a junior political science major and waitress at two restaurants, noted the impact of the mandate at her jobs in the two weeks since the policy was implemented.
"We are currently experiencing a decline in business that we've never seen since my job has been open," Maltese said. "And at a point where workers are becoming increasingly harder and harder to find in the service industry, we're losing needed workers to function as a staff."
Maltese urged people to be patient with service workers while the mandate is in place.
"I wish more people understood that we are not making these decisions, and are simply trying to continue to work and live in the city with the requirements given to us as safely as possible," she continued.