Students living in Suffolk University's 10 West residential building said they are experiencing problems with the air quality in their dorm rooms – an ongoing issue facilities has not adequately addressed, they said.
Julia Simone is one of the students who have had this problem, she said. 
"My roommates and I started to have problems like breathing. We were constantly coughing. We knew we didn't have colds because cold medicine was not helping," said Julia Simone, a student who lives in one of these rooms. 
Simone and her roommates discovered an issue with the air quality and filed a work order around the middle of September, although she said maintenance did not respond to the work order until the first or second week of October. 
According to Simone, facilities cleaned the vent in her dorm the day after Suffolk's fall holiday, which fell on Oct. 11 this year, and then came back at the end of the week to clean it again. Two weeks after Halloween, Simone decided to take matters into her own hands and conduct a mold test through Pro-Lab, a company that sells home safety test kits.
"I think [facilities cleaning it] helped, but not enough," Simone said. 
According to the Pro-Lab website, the company offers two sampling methods, one that can be conducted in 48 hours and another that offers a lab analysis that can identify the name of any possible mold present. Pro-Lab testing, in cases such as this, cannot detect a number of mold concentrations, according to its website. 
All students who tested their dorms for mold in this article opted for the test that included a lab analysis. 
The Pro-Lab website states that there can be a presence of mold if an individual notices a musty or moldy odor, water penetration or has a poorly maintained or dirty air conditioner or heating unit. 
Simone's Pro-Lab results came back and stated no fungi had been detected in her dorm room. Other residents who conducted mold tests had more concerning results. 
A student wanting to remain anonymous received their test results back on Oct. 20. The Pro-Lab results, the same lab that conducted Simone's mold test, came back positive for two types of mold: cladosporium and penicillium.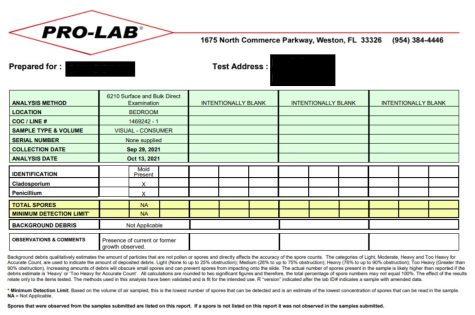 Cladosporium and penicillium are among the two most common types of mold. According to Pro-Labs' test results, both molds can worsen asthma, hay fever and other certain hypersensitivity allergy symptoms. The company also said that some species of penicillium could indicate a water issue in a building. 
The student said that their roommate has asthma and had noticed an impact from being in the room.
"While she was home, [her asthma] was better, and then she came back, and it got worse again," the student said. 
The student said that after receiving the results, they sent an email to the Dean of Students Ann Coyne, who then forwarded the email to Ashley Lindsey, the director of facilities at Suffolk. 
"Before we sent the email, [facilities] only looked at [the vent], said it was dust, and cleaned it. But then after we sent the email they came in and changed the filters," the student said. 
The student said Lindsey responded to the email saying she was concerned, and Lindsey sent someone from the Environmental Health & Safety office to conduct an air quality test on Nov. 17, almost two months after the students noticed the issue. 
"
The University takes any concerns about air quality or mold in residence halls extremely seriously.
— Suffolk spokesman Greg Gatlin
"Both the Facilities Department and the University's Office of Environmental Health & Safety have conducted tests in rooms in the 10 West Residence Hall, where some students raised concerns this semester," he continued. "Those tests found no evidence of any concerning presence of airborne mold." 
Lindsey told the students the results of the air quality test in an email. The Environmental Health & Safety office concluded that their results were similar to those from the Pro-Lab tests. The concentration of mold spores was considered low and found no concerning presence of airborne mold spore concentrations, Lindsey said at the time. 
The Environmental Health & Safety office said if mold spore concentrations are greater than 300 to 500 mold spore count per cubic meter, or if indoor mold spore concentrations are 10 times greater than outdoor concentrations, then a mold problem may be present. 
Neither the university or Pro-Labs indicated the number of mold spore concentrations found inside the rooms. 
Mold exposure can cause wheezing, a stuffy nose and red or itchy eyes or skin, with people with mold allergies or asthma likely to have stronger reactions to mold, the CDC wrote on its website. 
It is impossible to eliminate all mold and mold spores in an indoor environment and that all species of mold can cause health problems, according to The United States Environmental Protection Agency. 
"Since no EPA or other federal limits have been set for mold or mold spores, sampling cannot be used to check a building's compliance with federal mold standards," according to the agency's website.
John Slavin is an electrical contractor who has worked in the business for about 30 years and has seen several cases of mold before, he said. Slavin has a daughter residing in 10 West, and he took a sample from her room in order to conduct a Pro-Lab test. 
On Nov. 16, the results came back positive for cladosporium. 
"Especially going from summer to winter, or winter to summer, you get a lot of condensation in the vents, which also grows mold," Slavin said. 
When Slavin was in the room to get a sample for the mold test, he unscrewed the smaller of the two vents and peeked inside. 
"I looked at it and I definitely saw the insulation was turning black," he said. "That could be, you know, a few different things." 
Slavin said that the insulation in the unit was deteriorating, and that this could be due to a presence of mold in the vent. But he couldn't say what the cause of this was for sure. 
The CDC states that if you can see or smell mold, it could be an indicator that a health risk is present.
"I did get a little smell, but not much," Slavin said. 
Slavin said that this issue is likely too serious for facilities to fix without outsourcing a company that specializes in mold removal. 
"It's a long process," he said. "It's not one thing you come in and you spray it and you're done. That doesn't work. You have to get rid of the organic material … sometimes you have to spray one, twice, maybe three, four times, before you get rid of everything."
"Mold happens all the time; it's not in [facilities'] control. Once they realize they might have mold then it is in their control," Slavin continued. 
The Environmental Health & Safety office conducted the same air quality test in Slavin's daughter's room on Nov. 17. They said there was no concerning presence of mold found in the room. 
"Out of an abundance of caution, we will have an outside mold remediation company test the room," Gatlin said. 
Gatlin said facilities runs a mold test whenever they receive a report indicating a possible mold problem. He also said the facilities team is trained to complete basic remediation when necessary. 
According to Gatlin, the facilities team has not been made aware of any past history of mold in 10 West. They were alerted that dust was in some of the air vents in the building in October and have been cleaning the vents when asked, he said.
Maxx LiPuma is another student living in 10 West who believes he has mold in his air vents. While he did not conduct a Pro-Lab test on his ventilation system, he did find mold on the ceiling of his bathroom, he said. 
LiPuma said he filed multiple work orders for several issues in his room through facilities' online work order request form and also talked to his residence director Nnanna Anosike. He said that facilities confirmed in person to him that there was mold on the bathroom ceiling. 
Gatlin said facilities never received any work orders relating to mold or the bathroom ceiling for LiPuma's room. 
"They went, and they scrubbed our ceiling with something and then … [the maintenance worker] was like 'Some of it won't come off, so we are going to come and paint over it,'" LiPuma said.
While LiPuma said he didn't fully understand why facilities wanted to paint over the mold, he added that they never returned to the room to further address the issue or to paint over the mold.
According to the United States EPA, paint or caulk should not be applied to moldy surfaces, and if paint is applied, it is likely to peel. 
"Work orders should not be left incomplete, and Facilities will absolutely ensure that the team returns to take care of any outstanding issue," Gatlin said.
While he never conducted a mold test on his own, LiPuma and his roommates felt like they were experiencing serious health issues due to the air quality in the apartment, he said. 
"All of us wake up feeling sick. It's a thing where every morning we wake up hacking, needing to blow your nose, never feeling like 100%, things like that," LiPuma said. "When we leave, we feel fine, then we come back to this apartment and all of us feel sick the next morning." 
Around Nov. 1, LiPuma said that his roommate woke up feeling so sick that she went to Urgent Care. 
"[Urgent Care] was instantly able to say, 'Oh you have mold in your apartment, and you have an upper respiratory infection' … the doctor essentially told her it won't go away until you have spent multiple weeks out of that apartment," LiPuma said. 
In regard to the air quality in the room, he said he did not believe maintenance did an effective job when cleaning the dust. While they cleaned the main vent on the first floor, they did not clean the connecting vent on the second floor of his loft-style apartment, he said.
"At this point, is it even worth the battle?" LiPuma said. 
Although he said he feels like his complaints are not being heard, all of his roommates are either not in housing for the spring semester or studying abroad. 
"
The next person who moves in, if they want to raise hell they can, or you know it's just going to be an issue for them.
— Maxx LiPuma
When asked if she thinks the school is doing its best to resolve the issue, Simone said, "One-hundred percent no. I think they're dismissing the issue and trying to sweep it under the rug." 
"I don't expect them to do anything …  unless like they are being pressured to do it," said the student who wished to remain unnamed. 
Gatlin said facilities will further address the issues over winter break. 
"​​We do plan to bring in an outside remediation specialist over winter break to conduct further tests to ensure there are no mold or other air quality issues," Gatlin said. "We also plan to examine and clean vents over the winter break." 
In addition to their plan to examine the air quality over winter break, Gatlin said the university will immediately investigate any concerns related to either air quality issues or health impacts in a room. 
"We urge any student with a concern to immediately contact their residence director and/or Director of Facilities and Campus Planning Ashley Lindsey at [email protected]," he said.