Suffolk University hosted the NCAA Cross Country East Regionals at Franklin Park on Saturday, the first time in its 115 year history that Suffolk has hosted an NCAA championship event. 
 Thirty-three men's teams and 29 women's teams, including hundreds of athletes and spectators, gathered on a picture-perfect fall day to experience the culmination of the cross country season. For some athletes, the event was also their chance to qualify for nationals. 
The Suffolk men's team cracked the top 10 with a ninth-place finish, scoring 324 points. The women earned 12th with 421 team points.
Suffolk's Matyas Csiki-Fejer picked up fourth place, finishing with a time of 25:40.40. This placement earned him a spot at nationals on Nov. 20 in Louisville. Csiki-Fejer also earned All-New England honors from the Division III New England Association. 
"It was a process goal. Made it through, all eyes on next week," said Csiki-Fejer.
The Rams dominated their Commonwealth Coast Conference opponents. The men's team finished higher than all of their conference competitors, with the women finishing only behind Endicott College. Both the top finishers for the men and women, Csiki-Fejer and Gwen Koziara, were the fastest CCC runners in their respective fields.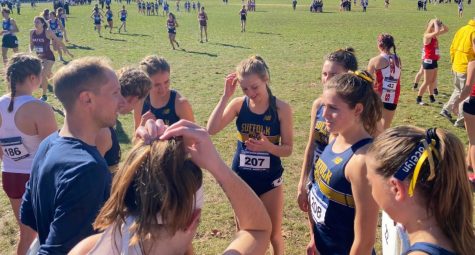 The MIT Engineers men won the day with a team score of 23, having six finishes in the top 10. In the women's field, the Tufts University Jumbos ran away with the title with 59 points. The Jumbos had three runners in the top 10.The winning teams will both travel to nationals next weekend in Louisville as collective squads. 
Colby College's Tyler Morris won the men's 8k in 25:00:06. Morris also won the Suffolk Invitational on Oct. 16 at Franklin Park. Ari Marks of Wellesley College ran to victory in the women's 6k in 21:16.5.
This was the second meet Suffolk has hosted this year, the first being the Suffolk Invitational on October 16. The weather for Saturday's regionals, 57 degrees and sunny, made for a great running environment on and off the course.
"Fantastic environment, I think there may have been more energy than the Suffolk Invite which I didn't think was possible," said Csiki-Fejer. "Thanks to all the fans for coming to cheer, it was electric."
Suffolk's Director of Athletics Cary McConnell said much of the event's success lies with Suffolk's cross country head coach Will Feldman. 
"It's a great day to be out here and see the runners compete," said McConnell. "As a department, I think it speaks to the direction we are heading in, constantly trying to move it up and offer special events for the student-athletes and things that put the university on the map." 
The indoor track season will commence in December for many cross country runners who compete on both squads. 
Follow JD on Twitter @jdconte617