Check out these fun holiday activities in Boston
The holiday season has arrived in Boston and there is plenty to do in the city to get in the spirit. 
As 2021 draws to a close, these next two months are filled with fun holiday activities open to all Bostonians and students alike. Whether in preparation for Thanksgiving, Christmas, Hanukkah or New Years, there is something offered for everyone. 
Here are five things to do in the area to celebrate the most wonderful time of the year.
Shopping on Thanksgiving weekend
Thanksgiving weekend and the weeks leading up to it are big in Boston, so if you find yourself spending turkey day in the city, make sure you have your wallet.
First and foremost, Black Friday truly kicks off the best shopping season of the year, and with Faneuil Hall Marketplace and Newbury Street right around Suffolk University's campus, there is a store for everyone. 
Since Black Friday means deals and steals, try the Wrentham Outlets, the state's biggest discount shopping outlet mall in Wrentham, or Assembly Row in Somerville. While both of these locations mean venturing outside of Boston lines, they are sure to have huge sales for every shopper. 
Head to the theater to see a show
Both November and December consist of packed schedules for every theater in Boston, which means there is a show you are bound to enjoy.
"The Nutcracker" from the Boston Ballet at the Citizens Bank Opera House is one of the more popular shows, and for good reason. "The Nutcracker" brings to life a classic Christmas story with wonderful music and dancing that is hard to find anywhere else. Tickets to see the show are available from Nov. 26 – Dec. 26, and can be found on the Boston Ballet's website, or various other ticket sellers such as Ticket Liquidator.
The Boston Symphony Orchestra is another excellent location for holiday entertainment through their Holiday Pops performances. At this theater experience, everyone's favorite Christmas songs are played in an auditorium decorated as a scenic winter wonderland, and sing-alongs from the audience are encouraged.
Being shared for the entire month of December right up until the 24th, it's easy to get into the Christmas spirit with these shows. Tickets can be found on the Orchestra's website under the Pops section. 
See a singing tree concert
Travel to Seaport from now until Dec. 26 to enjoy a singing event unlike any other. Delta Air Lines sponsors an event where the sounds and rhythms of assorted types of trees are translated into holiday music. 
This event is free and occurs every Sunday from noon – 2 p.m. at the Rocks on Harbor Way in Seaport. As a bonus part of this program, Delta Air Lines plans to make a donation to Speak for the Trees Boston, a non-profit organization that works to improve the health and size of the area's urban forest.
More information on directions and details of the event can be found on Seaport's events website. 
Enjoy tree lightings
There's no shortage of holiday lighting events and shows around the city, and all of the popular ceremonies listed on Boston's Discovery Guide's website are free of charge to attend. These include the annual lighting at the Columbus Park Trellis, the Boston Common tree lighting and Frog Pond skating event, the Copley Square tree lighting and many more.
Kick-off the Christmas cheer with the first events of the season, including the Columbus Park festival on Nov. 22 at 5 p.m. and the Copley Square tree lighting on Nov. 29 at 5 p.m. After attending these, don't forget to make room on your calendar for the other events throughout the month of December. 
Go online for the Hanukkah Festival of Lights
If Christmas trees and visits from Santa aren't your way of celebrating, Jewish Boston is putting on a virtual Festival of Lights on Dec. 1 at 6 p.m. The event is free and is sure to be entertaining with performances from eight international female artists connected to eight Hanukkah lamps, provided by the Museum of Fine Arts.
Public menorah lightings also take place all over the city this time of year. If you're looking for popular events that won't break the bank, check out New England's tallest menorah at Brewer Fountain on the Common, the Massachusetts State House, Faneuil Marketplace and more. For dates and times, check out this section of Boston's Discovery Guide website.
Follow Roxanne on Twitter @roxsnowden.
Leave a Comment
About the Writer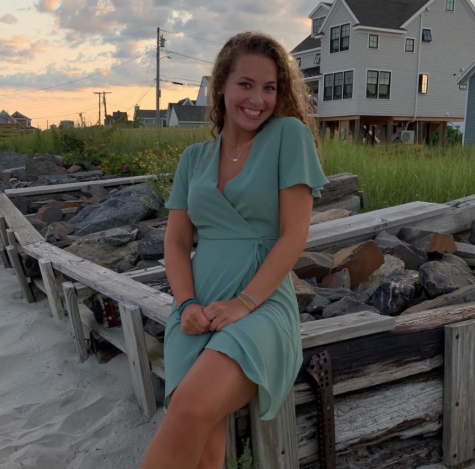 Roxanne Snowden, Staff Writer | she/her
Roxanne is a junior from Litchfield, Connecticut and is a broadcast journalism major. She enjoys spending time with family and friends, going to concerts, trying new restaurants and singing. Different from her small hometown, Roxanne loves being in the city, and one day hopes to work for ESPN and report on the sidelines of an NFL Super Bowl.

Follow Roxanne on Twitter @roxsnowden