Suffolk senior lives her dream at Disney
Suffolk senior Hannah Mitchell had her dreams come true this summer when she was accepted into the prestigious Disney College Program. 
According to their website, the Disney College Program is a five to seven month internship program designed to give students on-the-job experience working at the parks and resorts, participate in college coursework and meet and live with different people from across the world in company-sponsored housing.
Mitchell knew of the program since she was little and it became a dream of hers to apply. With COVID-19 and other timing issues, she was unable to move forward with her application until this year. 
"To say I'm into Disney is an understatement," Mitchell said.
Her family would go to Disney once a year, sometimes multiple times a year. Her dad works for ESPN, which is owned by Disney, so they were able to enjoy the parks frequently. 
"When I was a little girl, I would be in my room crying because I knew it was all I wanted. I knew it was my dream and once I got here it would be my dream come true," she said. 
In July, she was accepted into the program and was one step closer to fulfilling that lifelong dream. Disney requires full availability and asks students for a time frame that they can stay at the park. Mitchell's internship is from August to January.
Mitchell currently works in the Pinocchio Village Haus restaurant as a front-of-house staff member. She works five days a week, typically working 10 to 12 hour shifts.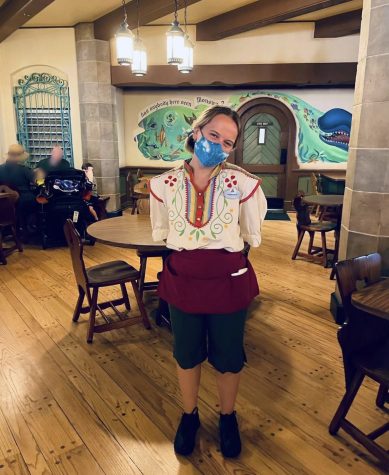 All of the cast members at Disney are aware of the legacy that they're upholding. Since the 50th anniversary of Disney just passed, the staff was reminded of what they're a part of, which is "Walt's dream."
"We are always putting on a show for our guests, they use all theatre terms," Mitchell said. "It's intense, but Disney has an amazing legacy of creating magical adventures and it's our job to preserve that legacy. Everyone has their part to play."
Mitchell has not only pushed herself to fulfill this dream, but has gained independence and self-reliance during this experience that has helped her emotionally. 
She has suffered from anxiety for most of her life and being on her own has taught her how to better handle the tough days. 
"By doing something like this and taking a risk, I surprise myself every day. I'm down here, I'm doing it, I'm paying my own rent. I know I can rely on myself and count on myself," she said. "When I have anxiety here, it's up to me to fix it. I have to rely on myself more and I've become stronger because of it." 
Disney has played a major role in reassuring Mitchell that things could get better. As a child she used Disney as a sort of mantra for when things were bad. 
"[I would say] when I get into the Disney college program, it will all be worth it," said Mitchell. 
As a senior, Mitchell had to take time off to pursue the Disney program and will return for the spring semester with a few more classes on her roster. She plans to graduate in May 2022 and is considering what to do after college. 
"I have two plans, come back and work for Disney or to do a major move to New York and work for a media platform like SNL or The Today Show," Mitchell said. "I think at some point in my life I'll definitely be back." 
Mitchell is spending the holidays at Disney, away from her family for the first time. She is using it as a jumping off point to see if she could move to Florida indefinitely or if she wants to stay closer to home. 
After getting into her dream program, she urges others to always go for their own dreams and goals. 
"Never give up on your dreams because if I had given up on doing this program, I never would have been here and I'm doing it," Mitchell said. Follow along Mitchell's Disney journey on Instagram @happ.ilyhannah.
Follow Ashley on Twitter @Ashleyfairchi14.
View Comments (2)
About the Contributor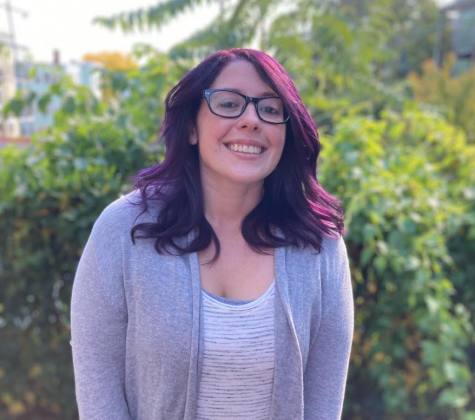 Ashley Fairchild, Asst. Copy Editor | she/her
Ashley
is a senior majoring in print/web Journalism. Outside of Suffolk, she can typically still be found with her nose in a book and her hand wrapped around a coffee mug. She enjoys lifting weights, finding new cafes and most importantly, playing with her dog, Pepper.
Follow Ashley on Twitter @AshleyFairchi14