Block party and Fan Fest celebration reunites Suffolk community
For the first time since the beginning of the pandemic, the Suffolk University community was able to gather together in large numbers for the Suffolk Weekend Block Party and Fan Fest Celebration.
The outdoor festival took place on Oct. 23 at East Boston Memorial Park, with students, families, alumni, faculty and staff invited to attend.
Many people were looking forward to finally being able to attend an in-person event with the extended Suffolk community, including Suffolk University President Marisa Kelly.
"We have a great turnout. It's really wonderful to be able to have students and families and employees and alumni all together in a place where we feel like we can be safe and just have some fun," said Kelly. 
This free event offered a slew of activities for attendees to participate in, including axe throwing, pumpkin painting, a photo booth and lawn games.
Several student groups performed at Fan Fest, including Ramifications, Who's Asking and Pasión Latina. The festival was Ramifications' first in-person event since the start of the pandemic.
"It was super exciting. It's great to be back performing live, it's what we love to do," said Olivia Duke, a senior who is the assistant business manager for the Ramifications. "It was great to be in front of an audience, and we've rehearsed for so long and to finally be able to show what we've been doing to a live audience was super awesome."
Those who went to the festival received two tickets to eat at any of the food trucks they liked. Roxy's Grilled Cheese, North East of the Border, Zaaki Mediterranean, Gourmet Kreyól and Sal's Pizza were the options people had to choose from.
Both the men's and women's soccer teams were playing games throughout the day during the festival.
There were also free giveaways happening, as well as drawings for Boston Bruins tickets and gift cards to the Suffolk Bookstore.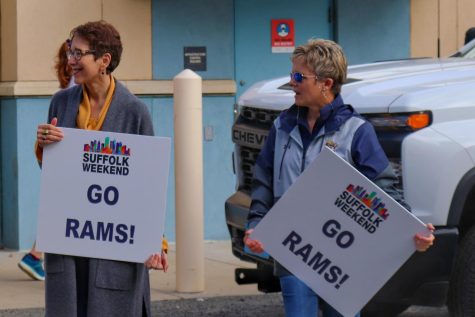 For freshmen and sophomores, it was their first time getting to experience an in-person Suffolk Weekend, and something as big as the block party.
"It was nice to have an event like this because we didn't have anything like this last year," said sophomore Jorie Kyle. "I felt the sense of community more, since having a lot of Suffolk students and organizations there welcoming all the students and families really showed it."
For some, like senior Hannah Graves, the event was bittersweet. She is wrapping up her final months as a Suffolk student.
"The student performances were amazing, the food was delicious and my family made memories that will last forever," said Graves. "I'm so happy that I got to have them attend one of my last senior events."
Follow Grace on Twitter @GraceM123456
Leave a Comment
About the Contributors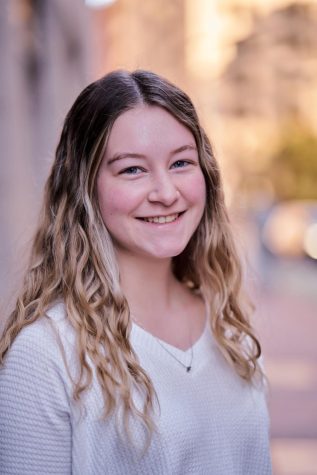 Grace MacDonald, Managing Editor | she/her
Grace is a senior from Seekonk, Massachusetts, majoring in public relations. Besides having a passion for writing, she also enjoys listening to Taylor Swift, watching movies, and exploring the city. She also loves to travel. After graduating, she plans to pursue a graduate degree in integrated marketing communication.
Follow Grace on Twitter
@GraceM123456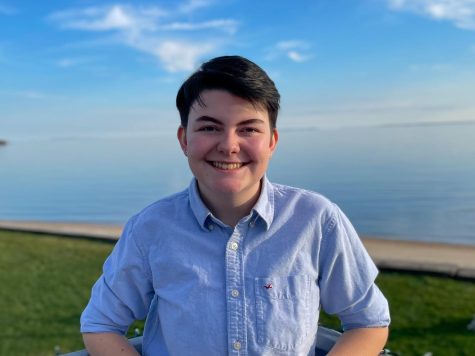 Leo Woods, Photo Editor | he/him
Leo is a junior political science major with a minor in philosophy from Clinton, Conn. When he isn't writing for The Journal, you can find him walking around Boston with his camera taking pictures of the city. He is passionate about politics, Mexican food, and Dungeons and Dragons. In the future, he plans on attending law school and permanently moving to Boston.
Follow Leo on Twitter @leowoods108